Joined

Nov 13, 2006
Messages

3,453
Picked up a Quest so that my kids would leave my PC VR rig alone... well that worked great for about a day until the wife stole the Quest to start watching Netflix with it. Portability on the Quest is pretty awesome.
Here she is eating a rice crispy treat and binge watching Netflix while enjoying the great outdoors...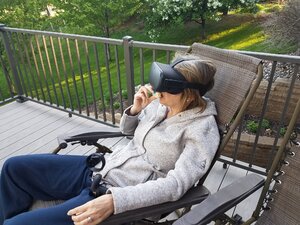 Pretty impressed with what it can do. Very solid design/features/capabilities. The screen is a good bit sharper/clearer than the Rift. Won't be replacing PC VR anytime soon, but it is a fun side diversion for playing Beat Saber and watching Netflix without being tied to a PC.