I wanted something fully modular and customizable. Something that can be small and big as needed. I made a simple subframe from smaller, standard blocks and a set of side panels with standard holes that line up with the screw holes on the small blocks. This design allowed me to build all these different layouts for fun from a single kit. The only tool I needed was a screwdriver (simple, not sonic).
Case layout A:
- 35cm x 20cm x 15cm and 10.5 litre. Fits perfectly into a cabin trolley bag with plenty of room to spare.
- 3.8 kg fully loaded (the case is around 0.8 kg).
- Fits my full size GPU. (max is 34x18cm and 6cm tall CPU cooler).
- The standard size, semi modular CM ATX PSU fits just fine.
- I can detach and re-attach the GPU compartment in less than 30 mins. In that form, it is only 7.7 litre and 2.9 kg.
- It has plenty of space for the cables and can fit multiple slim fans on the sides. Not that I can't add 5cm to the width or height easily if needed
So far, this is the one that fits my current needs the best. Proper sinking, paint and other misc elements were added over the earlier raw alu prototype version.
Case layout B:
This one is pretty big, 35x25x20cm and 17.5L. The good part is that it has massive free space inside. Practically half of it is empty. It is possible to add a 5.25" and several 3.5"s. Or a 5.25" with the PSU on top of it. Then you can fit a 15 cm CPU cooler easily. Weight is unchanged, below 4 kg.
I need to figure out what to do with the extra space. Once I know (water maybe?), I may move to this instead of the first layout.
Also, with an SFX PSU and an ITX size GPU and some half length panels, I can turn this layout into a 6.7L case with ease. Or maybe house 2 complete, separate PCs inside for whatever stupid reason.
Case layout C:
This one is the replica of the Raven RVZ01 layout. I kinda liked it back when I had one. I was curious if I can build one with my little set. I think the end result was quite good.
- 35x35x10cm, 12.25L.
- Still under 4 kb loaded. The RVZ01 is about 3.8kg, the case only.
- The rest of the specs are similar to the RVZ01 regarding GPU size, PSU capability (ATX), and CPU cooler (6-7cm).
Case layout D:
Unfortunately, I don't have a short ITX GPU at the moment but with that, I would be able to build this 10x50x20 build which would be only 10L and have plenty of space for ODDs and HDDs. With the MoBo removed it would double as a eVGA box, too, for normal size GPUs.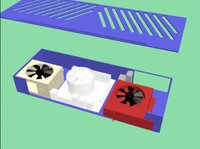 One thing is for sure, I will never need to buy another case
. New panels, maybe, like plexi or glass. I'm also thinking about creating some front panels with ODD cutouts, USB sockets and other stuff. Then I can customize even the front of the case. It is also very easy to work on. I can simply remove any panel on any side to access what I need to access. I can even run it bare bone, just the frame.
And best of all, the whole custom set set me back by $150.
Last edited: