Joined

Dec 14, 2016
Messages

15
Hey, guys, I am here to share my PC case project called Xolid 13.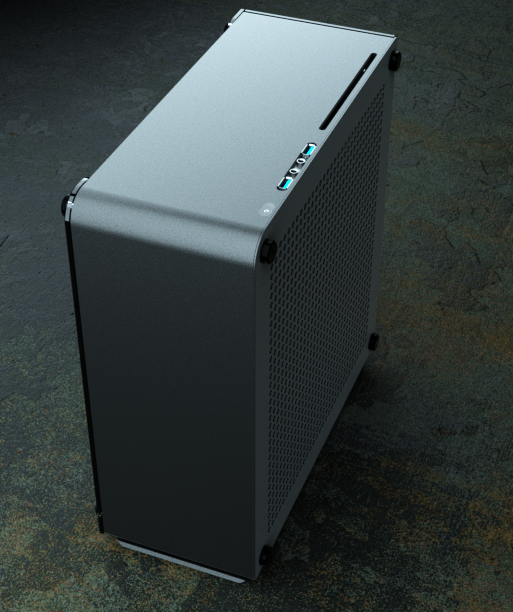 Concept Rendering
[Update] Our third prototype is finally here
Empty chassis (front) and assembled
Front panel, lower end
One configuration with ITX motherboard, 240mm radiator, full sized VGA card, and SFX power supply
Size comparison
Introduction:
I've always wanted to make the most out of limited space, and that's why I'm obsessed with ITX form factor. However, I'm also a greedy bastard. I like small form factor, but is unwilling to give up some fancy stuff like
hybrid cooler, transparent side panel, endgame graphic cards
, and other not-so-cool-but-convent stuffs

like
ODD and 3.5" HDDs
.
I've tried many cases, but each of them has drawbacks.

Then one day, when I was complaining this issue to my friend Raiden. He then said that "heck, why don't we make one ourselves and see what others think? Maybe if enough people like it, we might make it through with the help of crowd funding platforms"

So, after months of discussing, cursing, yelling and rendering, here's our brainchild:
Xolid 13
Specifications:
Case Dimensions (H x W x D): 322 x 138 x 310mm
Overall Dimensions (H x W x D): 336 x 138 x 317mm including feet and posterior protrusions


Volume: ~13.5 liters


Materials: 3mm/1.5 mm aluminium, (optional) glass


Metal surface treatment: hairline


Motherboard support: Mini- ITX


Graphic card support: dual slot cards up to 304 mm length


Liquid cooling/hybrid cooler support: Single 120mm or 240mm slim radiator


Power supply unit (PSU) support: SFX, SFX-L


CPU cooler support: up to 85mm


Optic disc driver support (optional): Slim slot loading ODDs, supports 12.7 mm drives


Fans: 4 x 12 cm fans (3 if opting for additional 2 x 3.5" HDD; 2 if opting for 4 x 3.5" HDD) (one fan below the graphic card must be a slim one)


I/O Ports (on the top of the case): 2 x USB 3.0, HD audio, power button
Front panel: ZERO hole, smooth surface. The chassis's logo is backlit with 2 colored LEDs


HDD configuration:
5 x 3.5" mounts:
1 on the back of the central vertical panel (can replace with ODD + 2 x 2.5" ones)
4 at the anterior part of the case (2 if opting for 120mm radiators, 0 if using 240mm ones)
2x 2.5" mounts: (optional)
2 on the back of "central vertical panel*" (0 if opting for a 3.5" one on the back)
Our goal is to build a small ITX case which suits most power user's need.
Manufacturer: probably Lian-Li or Silverstone
Other configurations:
4 x 3.5" HDDs
[
2 x 3.5" HDDs, 120mm radiator, short VGA
240mm AIO cooler with full sized VGA
The other side of the case
The other side of the case
https://i.imgur.com/xK0cYEk.png[/IMG]
Features we are considering about:
More color options for the mash/glass
Current status:
Working on our first prototype
Testing our prototype and making adjustments on the blueprint
Making some final adjustments before heading into production
LET US KNOW IF YOU ARE WILLING TO TEST OUR CASE!
Last edited: