OK so as much as I wanted to save space with my last project it was not going to work out
So moving on. I have this big monster mid 90s server case that used to house a x79 system. Its so big it can fit dual 360mm rads, a dual or even a quad CPU board, 4 GPU's and still have room for more.
Now I'm not going to go that crazy, but it will be a crazy over kill build.
Why x299? That is like dead and a piss poor platform. And like thread ripper is 100 times better?
Well x299 has a very small niche were it is worthwhile some one like me. One, it has better windows 7 support then x399 and I'll be dual booting 7. I also have one game that is heavy on draw calls and SkylakeX is a tick ahead of thread ripper there from what I seen. And this may sound nuts, but the cost of a x299 system is far far less. X299 boards are cheaper wile the better CPU's do go for more you can pick of one of the older CPU's for next to nothing for a hold over until getting a better CPU. And you don't have to deal with thread ripper blocks, most old 2011 blocks will work on 2066.
Parts.
Motherboard: TBD
CPU: i7 9800x
GPU: 2 980ti or Titan X's in SLI
PSU: FSP AURUM PT 1200W, will wires made.
Ram: TBD
HDD: 512gb M.2 drive for now, will add second one for Linux latter on.
Cooling: 2 360mm rads, and what ever more I can cram into the case, 5d pump, heat killer blocks and Scythe Kaze Flex fans.
Monitor: 20" CRT.
Do to cost and lack of time I will not be completing this build any day soon, I have a car I need to fix and sell, a car that I'm restoring and The miss's hates spending anymore then 5 to 10 minutes outside of the bedroom. Not that I'm complaining about that last one.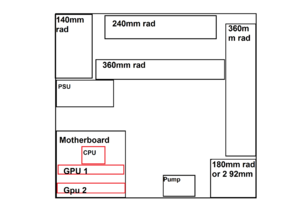 Here is the system lay out I'm thinking of. The case is monster big. And so wide I could put the PSU beside the Motherboard and GPU's and fit dual 240mm in the rear above the motherboard and still have room for a 120mm rad in the rear next to the board.
The front bottom spot has to 92mm fan slots and I do have a few 92mm rads i was thinking of using to save money, but I may put a 180mm or something like that if I can find a rad grill that matches my other grills for such a big rad.
The first thing I'll be doing to the case is replacing the crap DIY motherboard tray. Believe it or not this old 90s case has a removable motherboard tray. I'll get one out of anther case and find a way to make it fit. It will be far better then a old piece of sheet steel shoved into the case.
Next I'll fab a new rear panel for the case. This case was an AT case and used a single 80mm fan in the rear. There is room for a 140mm or even 180mm in the rear if I make a new rear panel.
Next comes making the cutout and mounts for all the rads.
Then making wires for the PSU.
Paint touch ups and rust repair.
Here are some Photos of the case from when I bought it.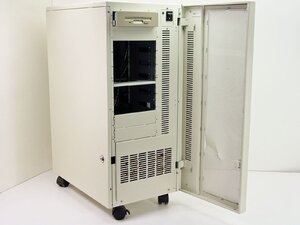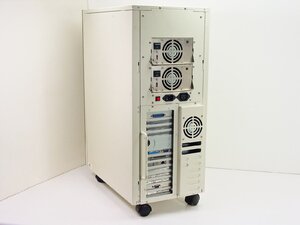 Sadly the mash on the front of the door was damage and I will need to replace it. any ideas