Joined

Mar 10, 2004
Messages

2,466
I was reading through the 'what's the oldest video game you still play thread' and got to thinking that it might be fun to see what game first pulled you into gaming.
First game I ever remember 'playing' was Uninvited on the Apple II. I was 3 years old at the time and one of my earliest memories is of the picture below (except that the screen we had was radioactive green as opposed to black and white):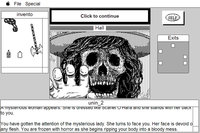 It gave me nightmares for a loooong time.