Joined

Oct 29, 2000
Messages

38,008
I thoght this could be a fun thread.
I'll start though mine is nothing special. I''m about 40 hours in, and at level 18.
I took the base of this ship from a random side quest where I was radioed for help, but by the time I boarded spacers had already killed off all the crew. I liked the ship, it was better than what I could build at the time so I kept it.
~80% of the ship is still the same, but I added some cargo space on each side, which weighed it down, so I needed to add thrust, which I achieved by adding some structural parts to fit two more engines in the back.
It's a mix of Deimos and Tayo parts, and Nova engines, and it seems to work aesthetically (though maybe not perfectly)
If it is not obvious, the inner two engines (the ones that are the furthest back) were not there on the ship that I seized. I initially moved the rear landing gear back, and added some structural filler in between to give them something to mount to. Then when I installed the C class reactor, I had to remove some of that structural filler to allow it to fit, as it was double the size of the old reactor.
I took the missile launcher off, because I can never seem to use it anyway, and figured I might as well save the weight. It never locks in time to be effective for me. Maybe once I level up my targeting skills and locks become quicker and at greater range I'll put one back in.
I was pretty excited to get the big Deimos bridge so early in game. I don't think you can actually install it until you have shipbuilder level 3. I still couldn't install it if I wanted to add it to a ship or build a new ship with it. Not sure it actually does anything of value, but it looks really nice.
I'm sure this is nothing compared to what some of you have built, but I am pretty happy with it. The base provided by the seized ship, albeit a little bit confusing on the inside at first allowed me to experiment with shipbuilding without having to learn all the hab modules from scratch.
It seems to have modules with all of the workbenches inside, though I've admittedly never used them.
I wanted to take screenshots from the ship builder, but for some reason, the steam overlay doesn't work in this game for me (May have to do with PureDarks DLSS mod)
I pulled a grandma, and took a pic with my phone of the specs: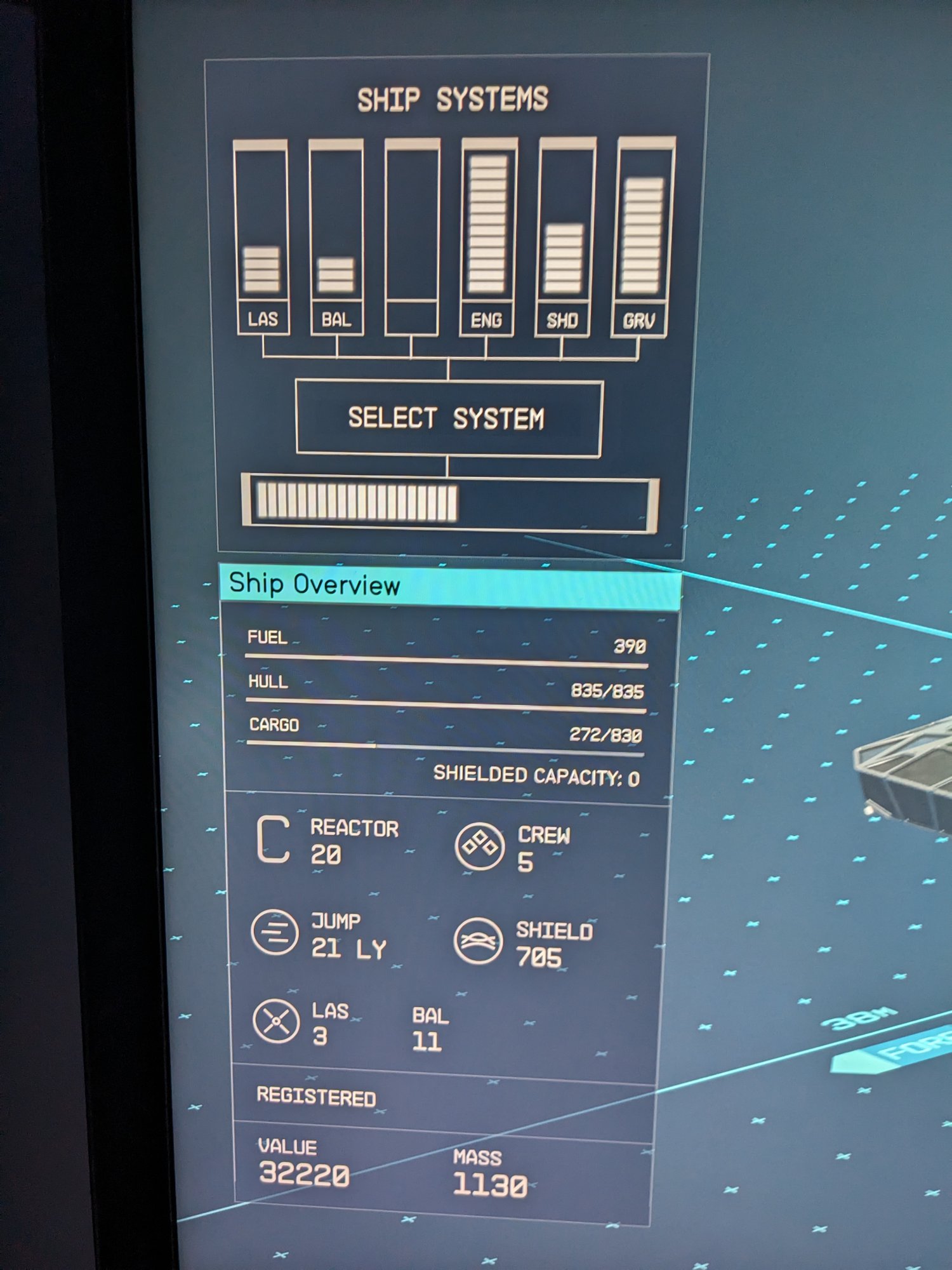 The funny part is that certain ships seized during certain (but not all) side quests cannot be renamed, so I am stuck with this ship being named "Damaged Ship". I'm hoping they fix this bug at some point. I keep thinking I am going to trade up to a new ship (either bought or built) but then I blow all of my credits on the next upgrade instead, and never save enough, so this ship will probably be with me for a while.
Last edited: