Joined

Nov 10, 2005
Messages

992
<<<<<Rough original post....>>>>>
I run Stablebit Drive Pool and love it. Works really well for what it is and my use.
I have two pools: Sata and SSD, and both were locked from writing to.
I logged in and saw 3 drives missing on SATA Pool and 5 missing on SSD pool. I wrote them down and rebooted. Now different drives were saying missing and some of the ones missing are no longer and some are still.
I managed to find a bad Sata drive and removed it from the pool. I also found a weird one in my SSD pool. Drive Pool showed the same serial number twice... Once as a good drive and once as a missing drive. Simply removed that duplicate and that pool looks good... no drives missing; however, pool is grey and will not duplicate.
After removing the bad Sata drive, that pool cleaned itself up as well and it too would not duplicate.
With being able to copy files now, I just copied over new files to it which triggered a duplication of those files.
After letting the server sit for approximately 8h, duplication started working on its own.
11/7/22 Post
My Sata pool is fine..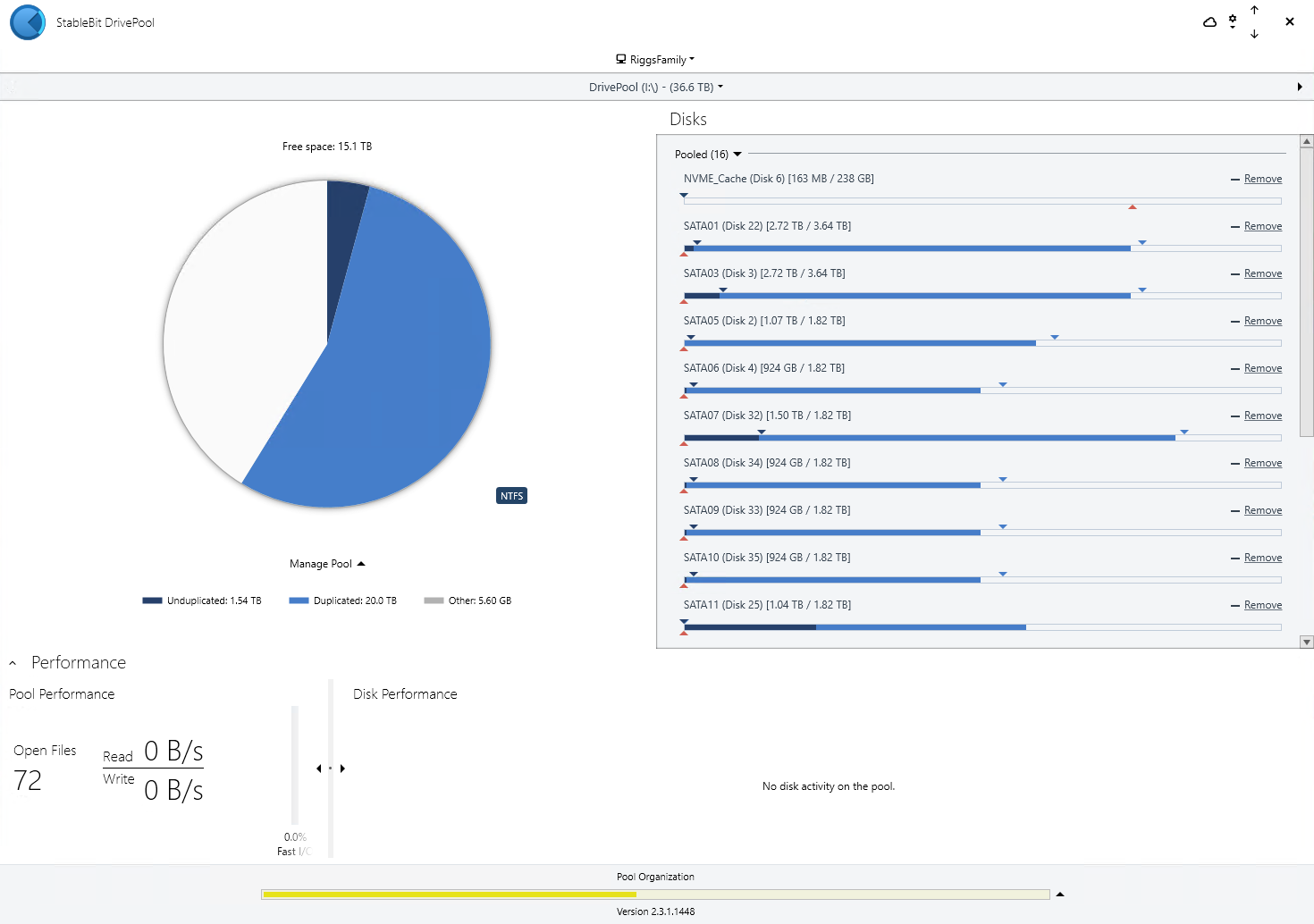 However my SSD pool is takin a shit again...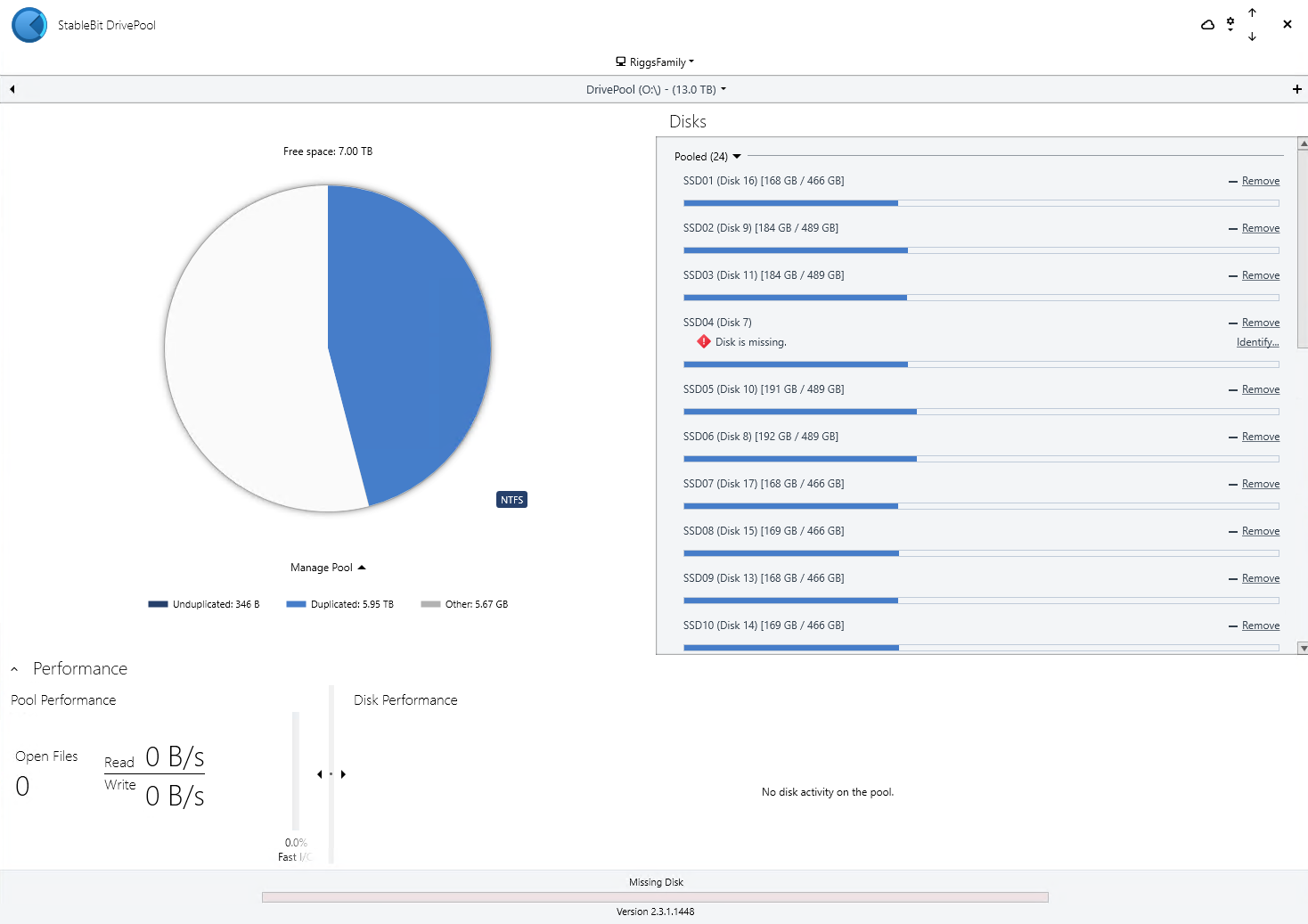 Luckily the time I spent while my machine was off, I also laid out the drives in Excel to know where each drive is...
so if I hover over both of those drives, I will see the serial number and know which drive is acting up. Not sure if it is bad or if it is just something else.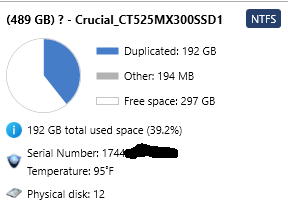 so now off to find those two and see why are they griping...
Originally I was not sure if it was hardware, firmware upgrades, etc..
Hardware:
Case: Corsair 750D with 6x3 bay cages
OS: Server 2019 Standard (Essentials role is gone.. im sad)
CPU: Intel i5-6600k
MoBo: Gigabyte GA-Z170XP-SLI
RAM: 2x16gb ddr4
GFX: Onboard Intel HD 530
PSU: Corsair HX 620W
OS Drive: 128GB SSD, Samsung
Storage Controllers: Dell 5100 8i HBA / H220 36i HBA
Hot Swap Cages: ICY DOCK 6 x 2.5" SATA /SAS HDD/SSD Hot Swap x 3
Storage Pool1: SSD
Storage Pool2: Sata with 256gb NVME Cache
and here is how I am tracking my drives, Model#, Serial Number and bay location...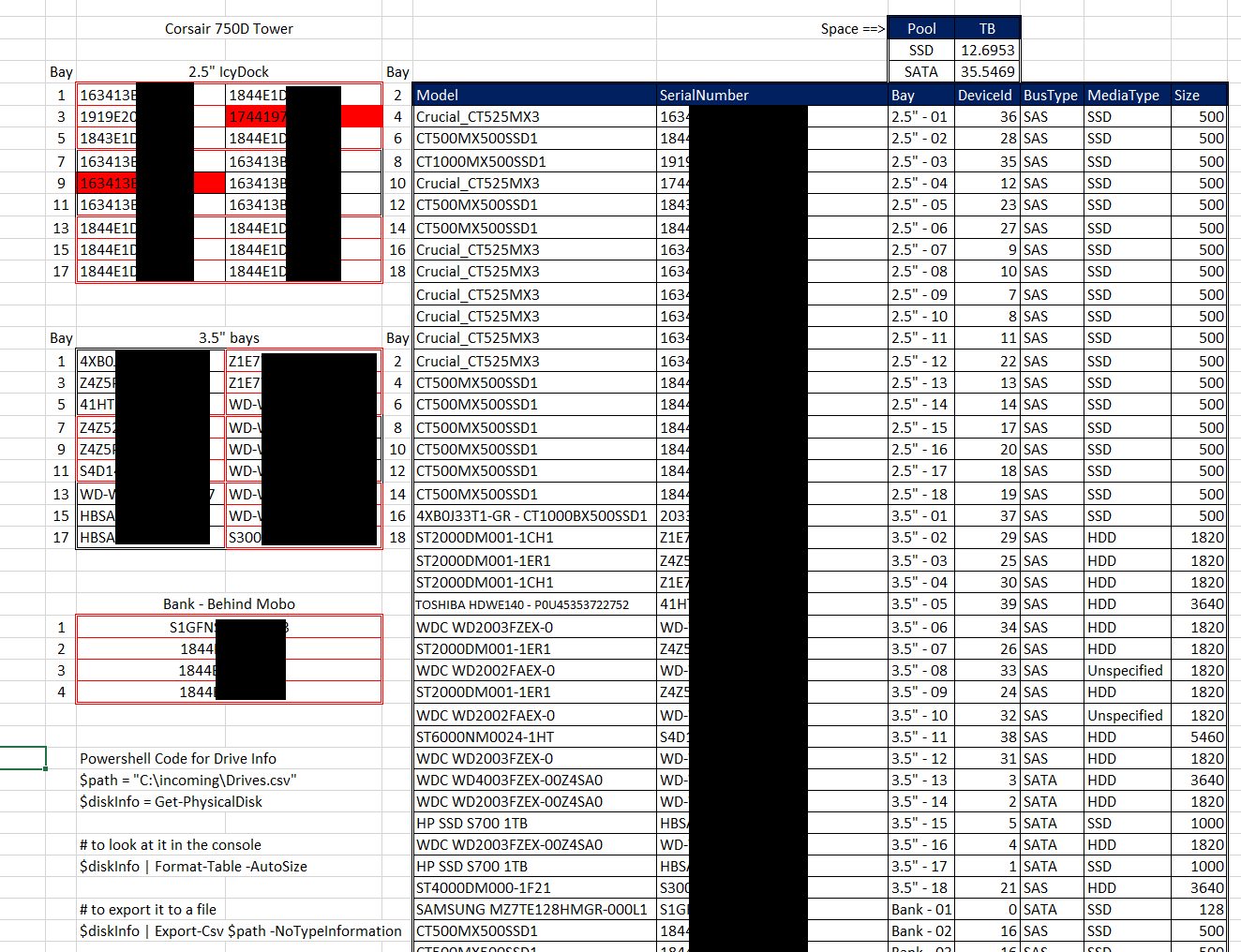 Last edited: