I find choosing a new case is harder than choosing the active components.
Give me some alternatives to consider
.
Requirements:
Micro ATX
. Yeah I know many think this not big or small enough, and I should either go full ATX or ITX, but mATX is the right balance for me.
Fit good Tower Coolers
: Handle something like a Noctua D15s, so no thin designs.
Filterered Intakes
: Dusty environment that isn't easy to change.
Decent Air flow
: Prefer if can take dual 140mm intakes in front
Quiet Design
: Realize somewhat contradicts decent airflow.
Understated Design
: No RGB, no needless lumps, creases.
Optical bay
: Not a deal breaker but would be nice to have.
What I am considering so far: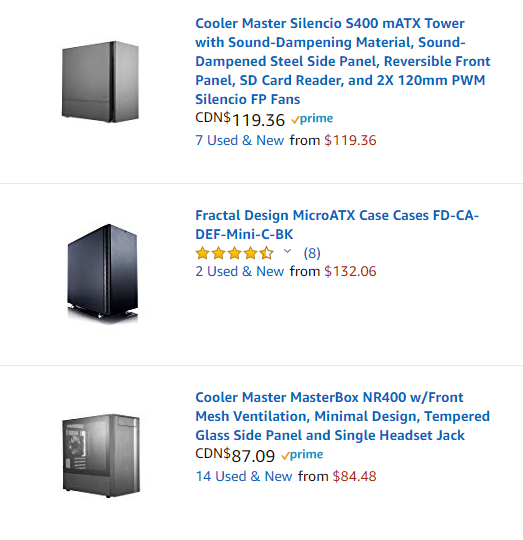 CM Silencio S400
: Seems to have it all. Takes dual 140mm filtered intakes, has bonus optical bay, and a door to open if I want to increase ventilation at the cost of increased noise.
Concerns
: Execution/quality. Bottom fan is buried in the PSU shroud. PSU filter annoying to deal with. New case. Few reviews, but in general CM not as well reviewed as Fractal.
Fractal Define Mini C
: First case I was considering. Well executed, both 140mm above the shroud. Filters are easy to deal with. Concerns: No door so not as convenient to swap airflow/noise, no optical.
CM MasterBox NR400
: Mesh front version of Silencio S400. Still has optical bay. Better airflow, Able to move fans higher than in Silencio (less PSU shroud obstruction). Good price. Concerns: Execution/Quality, and noise with the mesh front.