Joined

Dec 19, 2005
Messages

10,573
RISC-V on the Rise, for sure
"
Are GPUs also part of the future product roadmap at SiFive (bearing in mind that Arm's IP extends beyond compute)?
We partner with leading GPU providers but have no plans to build GPUs ourselves at this time.
Speaking of GPUs, they have been in the limelight since November when ChatGPT went mainstream. Where does RISC-V (and SiFive) fit in that landscape?
SiFive believes that the rapidly changing AI landscape begs for more programmable solutions and that RISC-V vector machines are uniquely well-suited for both inference and training.
Right now, what do you think are the biggest obstacles to RISC-V's (and by extension SiFive) ambitions to become a third force in compute (along x86 and Arm)?
RISC-V is already the third force in compute with adoption increasing around the globe. Will over 10 billion RISC-V cores on the market today, RISC-V the momentum of RISC-V is continuing to grow quickly and nearly every semiconductor company has an active RISC-V implementation strategy.
For RISC-V to continue this strong momentum, the community needs to further build out the RISC-V software and development ecosystem. One exciting milestone from last year is that the Android Open Source Project (AOSP) was ported to RISC-V, which lays the foundation for RISC-V solutions to power a wide range of Android devices from phones to smartwatches, TVs, and beyond.
Additionally, it will be important for even higher performance RISC-V products to hit the market. SiFive is already working on solutions that will deliver the highest level of performance to meet that market demand."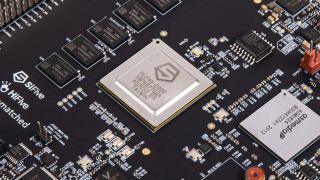 Source:
https://www.techradar.com/features/...up-the-ante-to-deal-with-open-source-hardware