Inspired by the Q Cars / Sleeper vehicles where a tame exterior belies a very sorted interior; that feeling when you open up a vintage muscle car and see a spotless engine bay I'm going to document the build / mod of my new main rig, I decided on an upgrade for VR, haven't had a custom loop in 10 years and had some time on my hands so what the heck.
Obligatory pile of boxes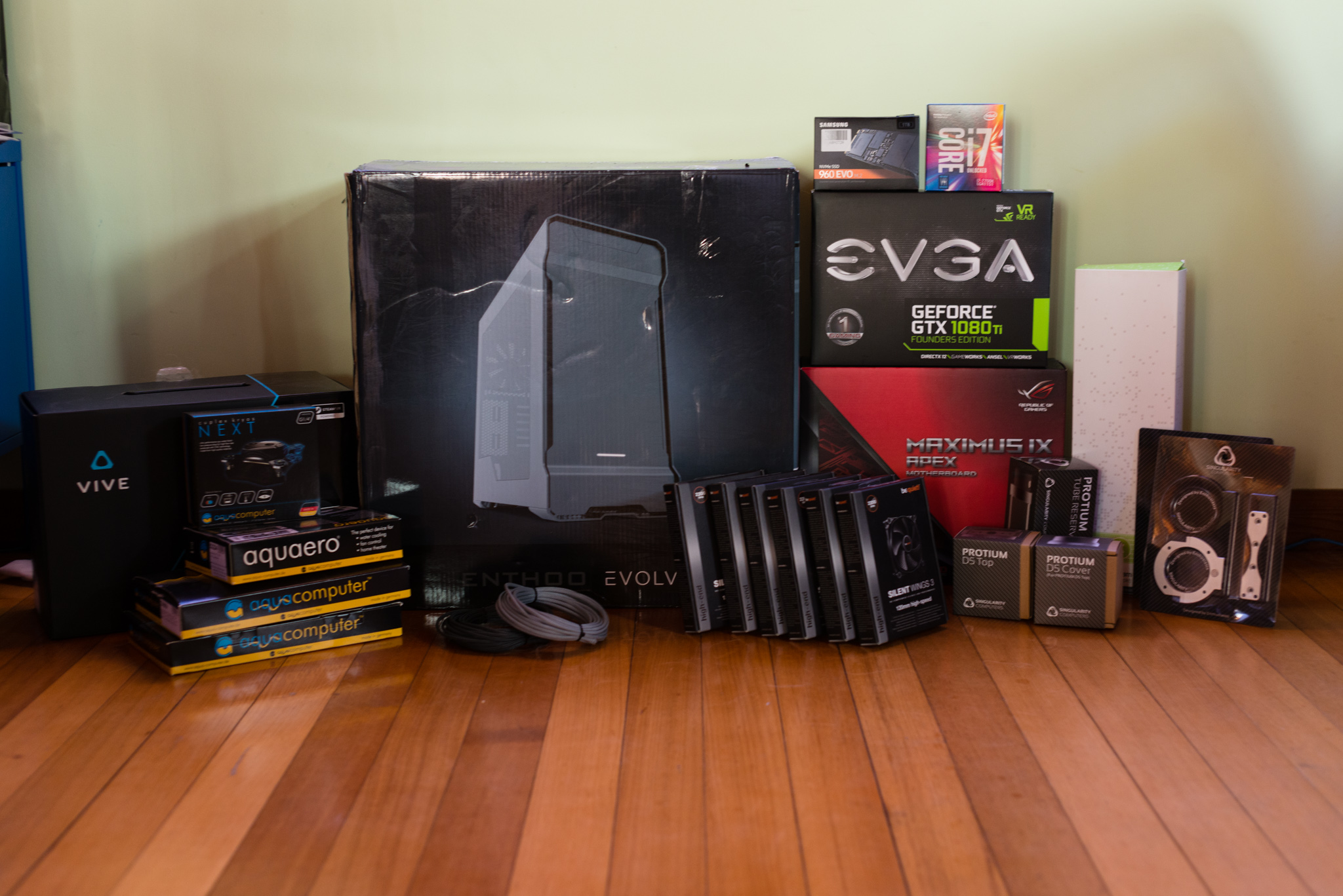 Core
Case: Enthoo Evolv ATX
Mobo: Asus Maximus IX Apex
GPU: EVGA 1080Ti Founders Edition
CPU: 7700k (Already at 5.1ghz with a Corsair H110)
SSD1: Samsung 960 Evo 1TB
SSD2: Samsung 960 Evo 1TB
PSU: Seasonic Platinum 1000
Watercooling
Dual 360 Radiator
Be Quiet Silent Wings 3 High Speed Fans
12mm Acrylic Tubing
Bitspower / Barrow Fittings
Singularity Computers
Core Single Radiator Mount
Protium Reservoir
Protium D5 Frosted Pump Top
Protium D5 Pump Cover
Aquacomputer
Cuplex PVD Vision Waterblock
Kyrographics Pascal GPU Waterblock
Kyrographics Backplate
D5 Aquabus Pump
Aquaero 6 LT Controller
Custom Cables
MDPC-X Platinum Grey / Carbon BTI
The Singularity stuff is going to be colour matched to the PVD Waterblock, I'm also going to investigate whether I can get a colour change to 'stick' with the GPU block. I'm not convinced as the nickel is
very
highly polished and I obviously don't want to take it the plate off but we'll give it a whirl and I'll keep the acetone handy.
Not sure on the second radiator yet, I hope it's something better than the EK 360SE I must use on the top (space) but I'm not sure how many mm I've got spare to fit a better one on the front.
Just to preempt a couple of possible questions
SSD's would be a Intel 600P if I could but they're green. Happy with NVMe main drive because of small file performance for builds (fuck AV kills it though). Want it black. doesn't leave with many choices, don't care over $100 AUD.
The fans were probably a mistake, I live in Australia atm though and it's really hard to find some stuff.
Haven't chosen fittings yet owed to availability but I also want to get some stuff in and work out how I'm going to do it.
I may change the PSU, the weird pin-out on the ATX for seasonic might make it impossible for a flawless cable, still researching this.
Last edited: