Joined

Sep 24, 2018
Messages

112
I've been in IT a LOOONG time. And I've done it all at some point in my career so of course it always seems like I'm working on someone else's $hi+
So I decided that it was time to quit cramming my PC under my desk, and build something nice. A show piece if you will. Something I can be proud of and really turn up my inner geek! I don't have a solid direction just yet. I have some ideas...thing's I know I want to include, and some things I know I don't.
That being said...here's what we have to work with.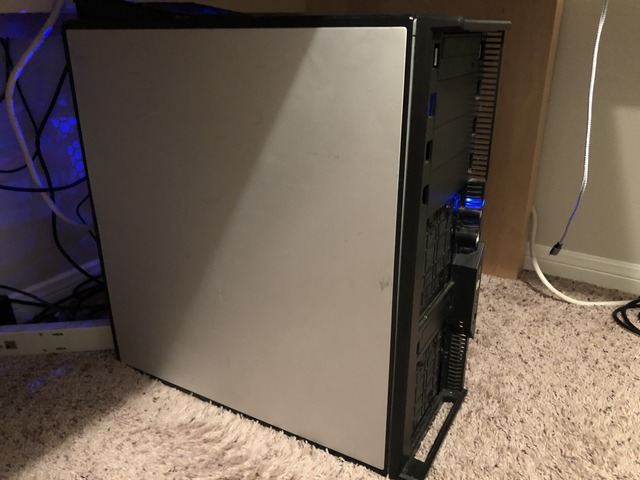 It's an Antec P180b. I think I got it back in 2005...2006 maybe. As you can see it's gone through the ringer. 5 moves, 7 different builds. The front door's gone. The fan covers are gone...It's a great case! Even by today's standards. But it desperately needs an upgrade. And lets face it...I'll never fit what I want to fit in my next build in this case. It's done its duty for God and country.
A look at the inside, shows I haven't really put much effort into cable management. Then again, the P180b was built for silence not looks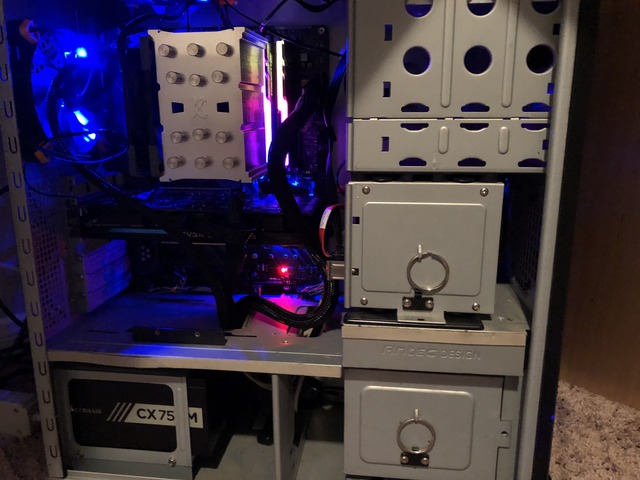 As far as hardware the current stats are as follows:
Intel i5k 8600 (Factory Clock)
Asrock Z370 Extreme 4
16GB G.Skill Trident Z RGB DDR4 (Factory Clock)
EVGA GTX 980TI (Factory Clock)
Corsair CX750M PSU
M-Audio II Audio interface
Samsung 850 EVO 500GB 2.5-Inch SATA III Internal SSD

A DVD-RW I jacked from an old Dell PC about 5 years ago
Use Case:
I'll be using this rig mainly for gaming and streaming. The occasional audio/video editing but it's so rare that I don't mind waiting for render time.
The Plan:
I've decided that I will keep the i5, It's recent and has LOTS of room to grow. I plan on water cooling, so there's major growth potential there. The z370 is a good board with lots of tools for RAM and CPU adjustments so no need to migrate from there. It also has 2 Ultra M.2 slots for the storage upgrade I have planned.
The Graphics card has GOT to go. I'm hunting for a 2080TI. They are becoming easier to get so that will mean I need to upgrade that PSU. Maybe need is a strong word. Should is probably more appropriate. But...If I decide to go with a 1080TI...that might change.
I want to go to M.2 Storage, upgrade the RAM to 32GB, and add an M.2 802.11AC module.
As far as case selection, I want something nice. Like I said a showpiece. I'm thinking Thermaltake Core P3/5 maybe the View 71. But I have my eye on the Lian Li 011 Dynamic.
Which leads me to color scheme. I thought about going all white...but then I'd need to replace a LOT of hardware. So, I shifted gears a little and I think I want to do a Houston Texans themed build. I love football and I'm a HUGE Texans fan...and you don't see that many NFL themed builds. Either that or I'm not looking in the right places...I am just going to have to get the hardware in the case and see where I want to go from there.
So to summarize (a.k.a. To Do List):
Select Case
Decide on GPU
Finalize Theme
Order Hardware
Build The Sucker
Play BF1 till my eyes pop out
Last edited: