I own the following monitors which have similar dot pitch (109 ppi vs 105 ppi) so the optimal viewing distance is roughly the same. I typically view them from around 30 inches away.
Asus ROG Swift PG278Q (27" 2560x1440 LCD)
Asus ROG Swift PG42UQ (42" 3840x2160 OLED)
The OLED monitor displays an annoying visual artifact that I noticed right away. It is most obvious when a yellow box is displayed on a white background (for example when highlighting text). There is a bright red vertical line on the left side of the box and a bright green vertical line on the right side. The graphic below demonstrates the problem:
The vertical lines are clearly visible in the photograph of the OLED on the left. They are not present in the photograph of the LCD on the right. The subpixel layouts of the monitors can also be observed in these photographs (WBGR for the OLED monitor and RGB for the LCD monitor). You can see that the WBGR layout results in vertical misalignment between the white pixels and the yellow pixels. Based on that observation I tried another test and displayed a white/yellow/white vertical line on a black background: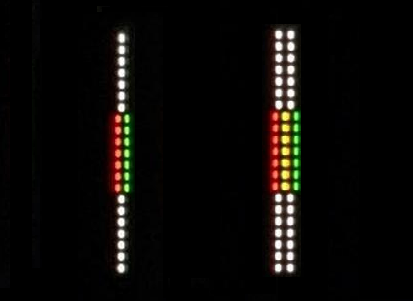 The line of the left is one pixel wide and the line on the right is two pixels wide. Here the artifact is even more obvious. The center of the line is too wide AND it's the wrong color. Due to the geometry of the WBGR subpixel layout there is no perfect way to display these images. If the yellow pixels are displayed correctly then the center of the line will be slightly offset from the top and the bottom. Nevertheless, it seems to me that would be far less noticeable than the artifacts that are caused by attempts to align the pixels.
Can someone else with an OLED monitor try to reproduce these results? I'm curious if other Asus PG42UQ monitors have this problem (I am running firmware V033). I am even more curious if the LG C2 has this problem. Just draw a yellow box on a white background in Windows Paint and look for the red and green vertical edges.