Joined

Nov 29, 2009
Messages

9,211
I posted most of these before here and there but realized I never made a dedicated thread anywhere or any forum for my server room project so decided to do it here.
I've also been thinking about making it into an actual "room" so figured I'd post what I got so far.
When I first moved into my house, this was my server room: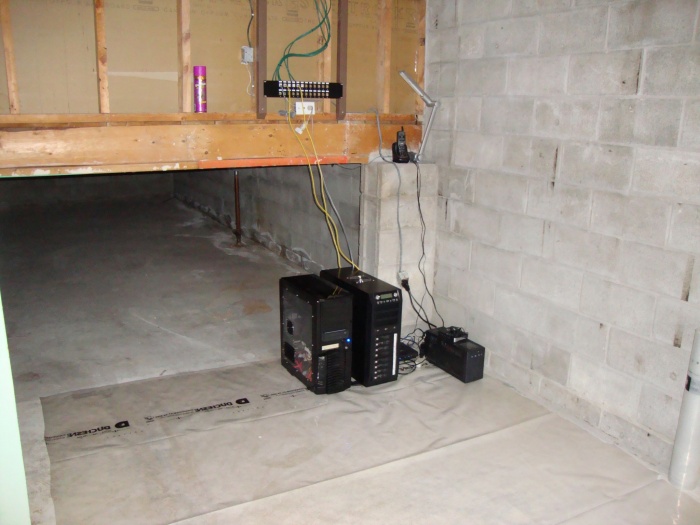 Not too impressive, and always made me nervous in case there is ever water in the basement. At some point I put them up on some small shelves.
I always wanted to get a rack but could not find one for a reasonable price. Then suddenly... I scored a 4 post rack for only a few hundred bucks online, new.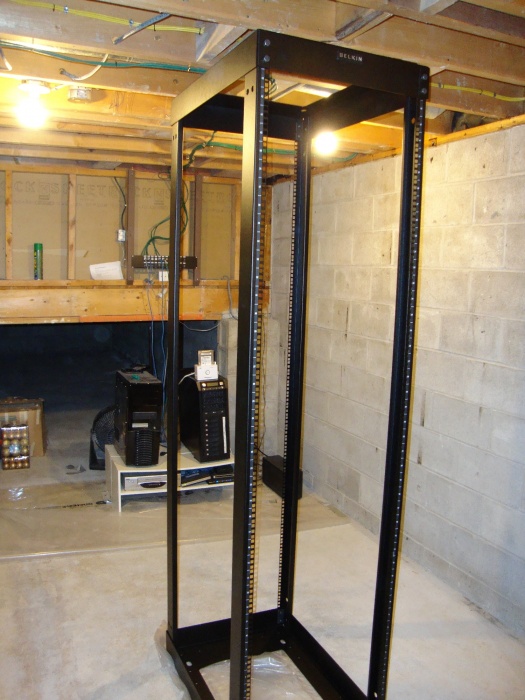 Around the same time I also scored 4 SAN enclosures so it was actually the first thing that went in, and the only thing rackmountable that I had at the time.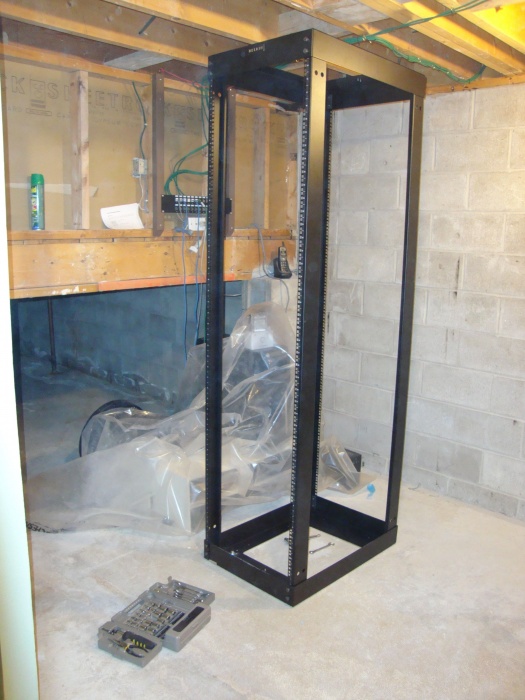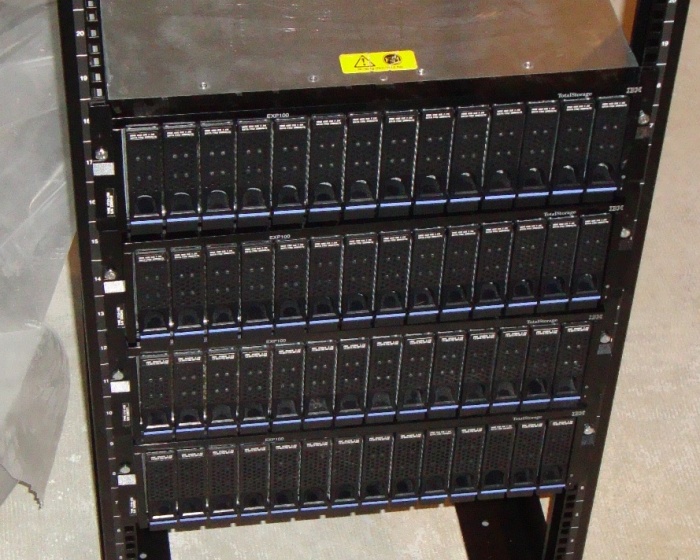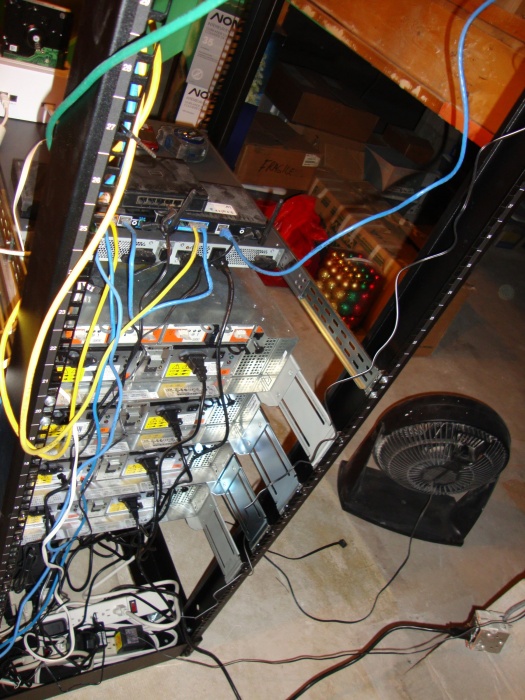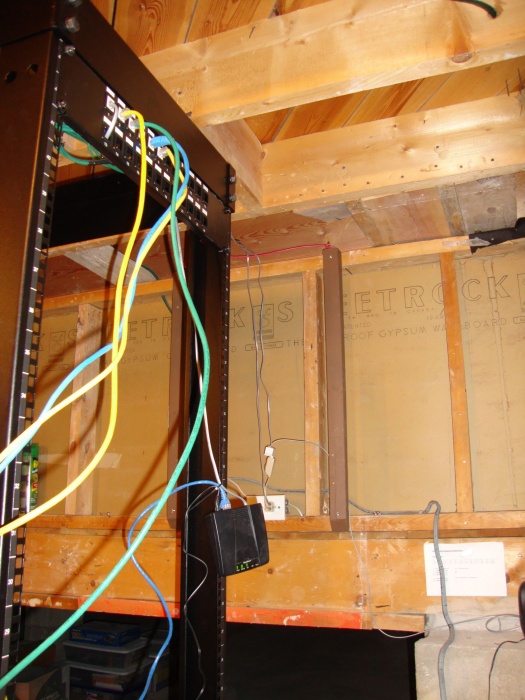 "Modem on a string" as opposed to "router on a stick"
Over the past years more stuff has gone into it, and more accessories around the house...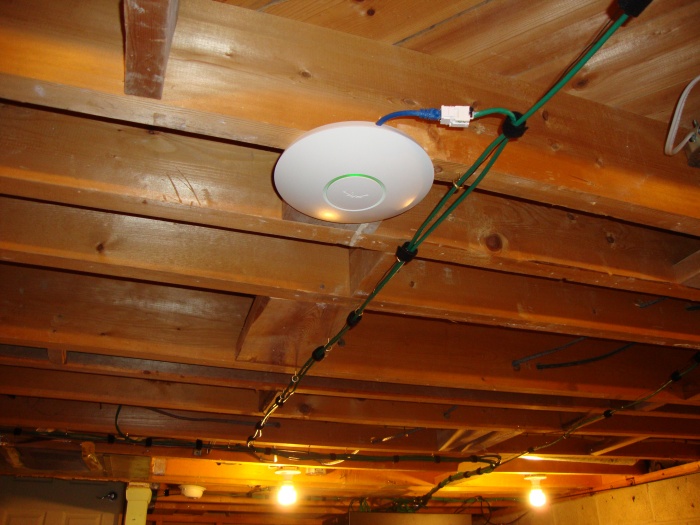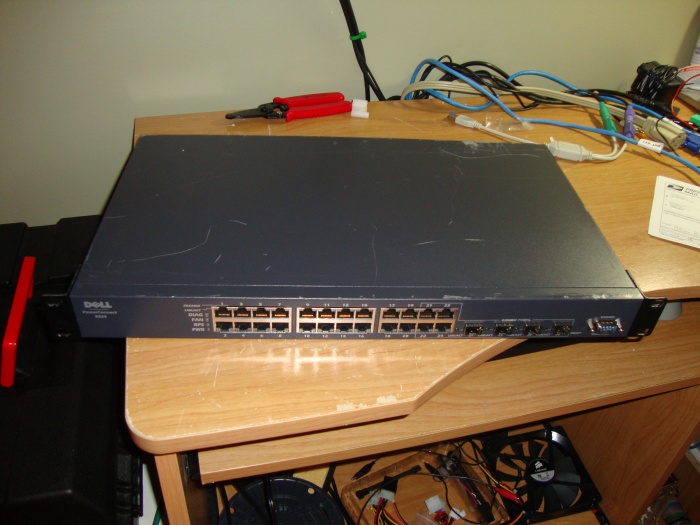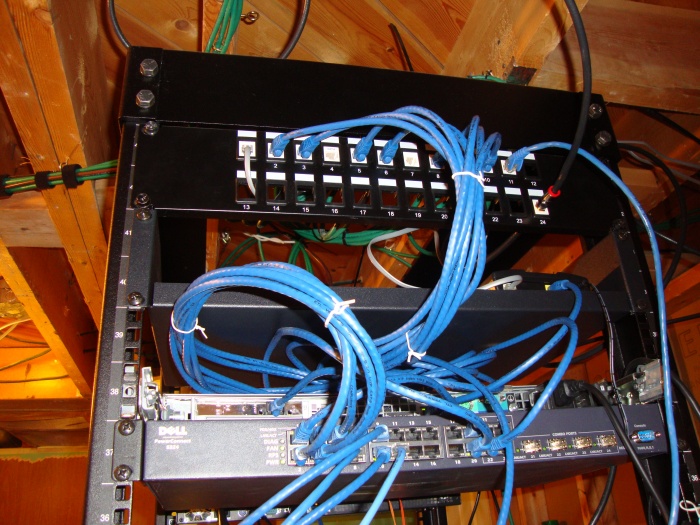 Full rack pic: Fairly recent. (sept 2012)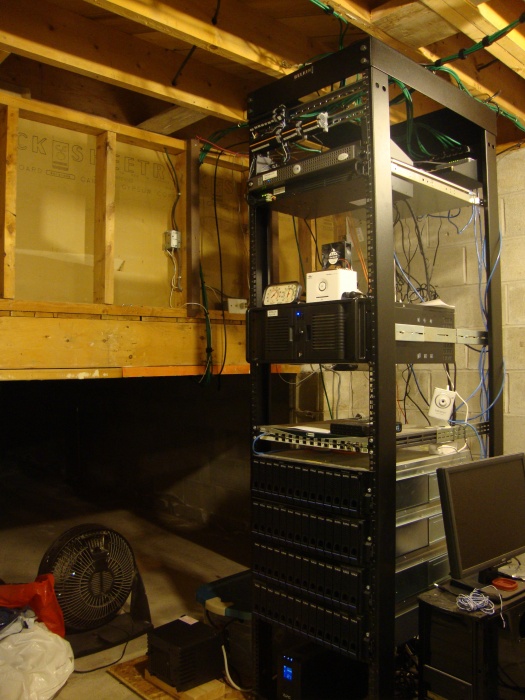 From top to bottom:
DIN rail with junction points for environmental control/monitoring around the house. This is basically just a patch panel. The second rail is for power distribution. Just keeps things clean.
Shelf with a relay controller and arduino board for the environmental stuff. The DIN rail has connections to this equipment.
Not seen, behind the shelf: Dell switch with patch panel.
Firewall: Running pfsense
hal9000: Environmental control server.
HDD dock for backups
borg: main server. This is pretty much the most important server I have. It does pretty much everything from file storage, email/spam filtering, web development, other misc development, VMs for various testing or other environments etc.... Been wanting to upgrade it. That is the same server that is in the black tower case with all the drives in the previous pics, I just moved it all to a rack mount.
McData fiber switch: not actually used
4x IBM SAN enclosures: not really used, but they are connected to the environmental server which has the appropriate fiber card. I use the top two enclosures for occasional backups of my whole environment.
Floor: UPSes. Small ones for less important stuff, and the black box and plastic container is my bigger UPS for the firewall, switch, WAP, and main server. It last's around 4-5 hours.
Closeup of DIN rails: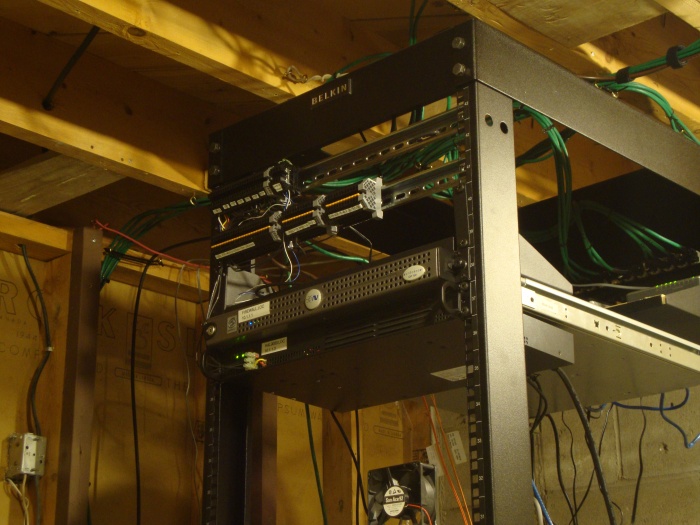 Environmental monitoring device: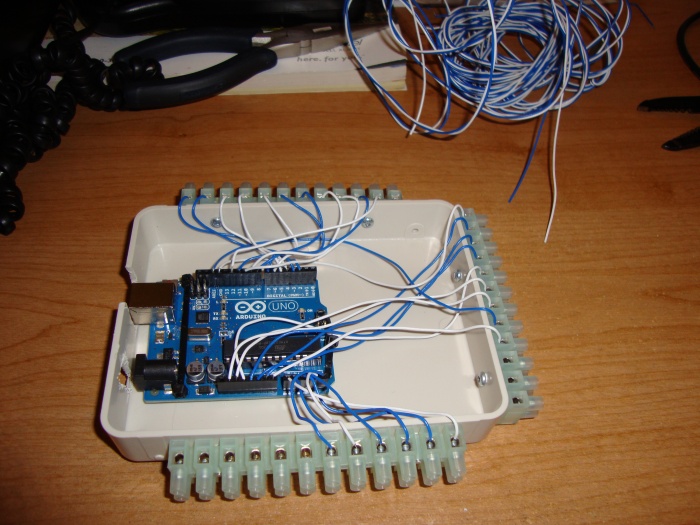 Hvac control device: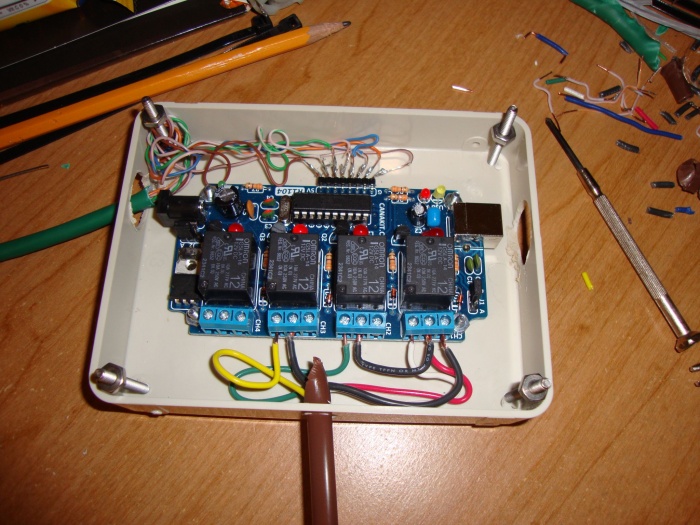 big UPS: (inverter charger with batteries)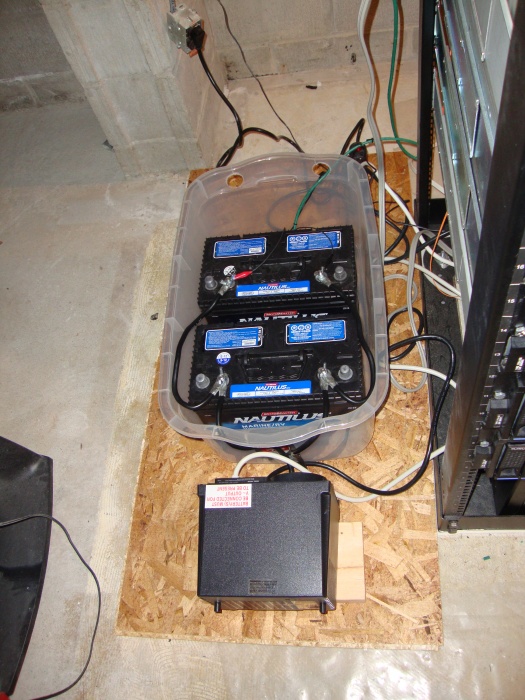 I've been wanting to actually enclose the server rack into a real room that is sealed off, fairly secure, and climate controlled. For climate control I will probably just have a large air filter and radiator with water pipes going throughout the floor as to disapate the heat to the rest of the house. Air will be forced from back of server room through this radiator then back in front. Might even seal it off in a way where air is forced to go through the rack. That means I could get away with less/no fans in some equipment. The server room does not generate much heat so I don't need a dedicated AC and rather not need one. For hydrogen potentially produced by the batteries I may need to have a separate system for that, probably just some small ABS pipe going outside and a small fan. I eventually want to have a battery shelf/enclosure and buy my own wire crimper so I can space them the way I want. There is not much selection of premade battery cables hence why the inverter is stuck against the batteries like that and can't even see the front display. I want to change that. A battery shelf will also let me stack more batteries together. I eventually want a rectifier/inverter setup, but inverter chargers are the most cost effective way of doing this and arn't as hard on the batteries as they're standby only.
This is another rack I scored, could not say no, it was free from work!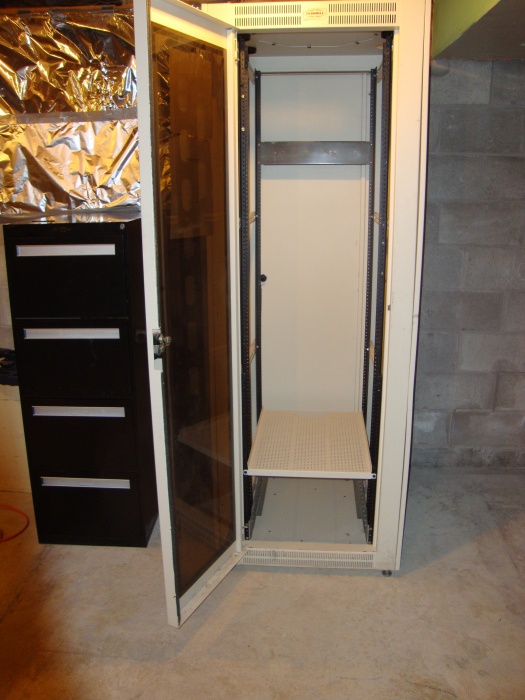 Not really sure what I will do with it TBH but it will most likely go beside my existing one. Probably what I'll end up doing is putting the new one beside the rack as is and use that one for lab stuff like if I decide to setup a Cisco lab or something. May also use it for power equipment if I get rackmount inverters and stuff. I thought of putting the batteries in it but it's kinda a waste to use a rack for that when I can just build a separate shelving system for those.
I just got my shares and been saving money, so I will probably be starting on the basement soon which will include finally enclosing the server room too. I will most likely have some kind of water based climate control and set it up so air is forced through the rack. I'll basically set it up as a "cold isle/hot isle" setup.