Joined

Jan 10, 2017
Messages

181
So when I got into VR I made a bad assumption. I thought I'd be more into seated VR games than room scale stuff. Once I got touch I realized how awesome full room scale games could really be. So I did the only thing I could do, I added [H]ardware until the Rift did room scale
Heres is what I learned...
Update: I added a couple technical notes to the bottom. Look for the *s
What You Need
1 extra Oculus Rift Sensor (You don't need 2 like me)
PCI-E USB expansion card (If you have less than 2 USB controllers)
USB extension cables with POWER ADAPTERS (USB power is very important)
Occulus Tray Tool -
https://forums.oculus.com/community...ng-profiles-hmd-disconnect-fixes-hopefully/p1
USB 3.0 controllers and Your Rift

If you start looking into the Rift and look over Oculus's setup instruction for Touch and "Touch with 360 tracking" you'll notice warnings all over the place that say not to plug more than 2 sensors into the USB 3.0 ports on your computer and to put the third sensor on USB 2.0. If you do this, you actually lose some of the tracking accuracy on your 3rd/4th sensors. The reason they say this is because you actually hit the USB 3.0 bandwidth limit for a single controller (controller NOT port, a USB hub will not help you here!) fairly quick with 2 sensors. 3 sensors on USB 3.0 on a single USB controller simply doesn't work. They flat up say not to use 4 for this reason. I was too [H]ard for that advice though and got obsessive. I wanted everything on USB 3.
Real world there is no actual tracking difference between USB 2 and USB 3. I forced all 4 of my sensors to track on USB 2 and I didn't see one lick of difference. If you want everything on USB 3 get a StarTech PEXUSB3S44V* (expensive) or one of the Inatek cards with a Fresco USB logic controller on it.
USB extension cables and sensor mounting
So now you've got USB controllers and you've got your sensors. I recommend taking your sensors off the stupid stick mounts Oculus put them on. The higher you put your sensors, the worse the included mounts are because they don't angle down very well. Luckily the tracking cameras unscrew off the sticks near the top and are standard 1/4-20 threads. Almost any camera mounts should work. I used some adhesive wall mounts made for GoPro hero cameras and had no issues.
You're going to need some USB extension cables to run to the cameras. Take the time and effort to run proper power to the cable extensions. The ones on Amazon from Superspeed can be plugged into a wall outlet with a generic AC adapter. I DO NOT RECOMMEND depending on the power from your PC for 32 foot cables. If you do and you hear a buzzing noise coming from your motherboard thats the sound of the capacitors that keep your USB ports powered dying
RIP Asus Z87
My Sensor Placement Setup
3 sensors are enough for most common room-scale setups. Place them in a triangle around the play area, 2 in corners to your left and right facing in, and 1 behind you. 4 sensors for my play area is WAY overkill.
The Rift tracking cameras are really good. Place them high and a slight downward angle. This gives you full use of the cameras field of vision. I don't have any tracking issues. The Rift software will complain during setup if you have 4 sensors but you can ignore that if you've followed my advice about extra USB controllers and powered USB extension cables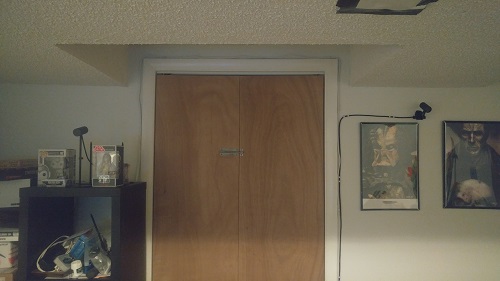 Your Final Goal
So once you have everything mounted, USB 3 and power sorted, and you setup the Rift, setup the sensors in the Oculus software. Run the communication test 4-5 times to make sure everything is good and your USB isn't flaky. If you see this you're ready to rock and roll. Finish setup, setup Steam and go play: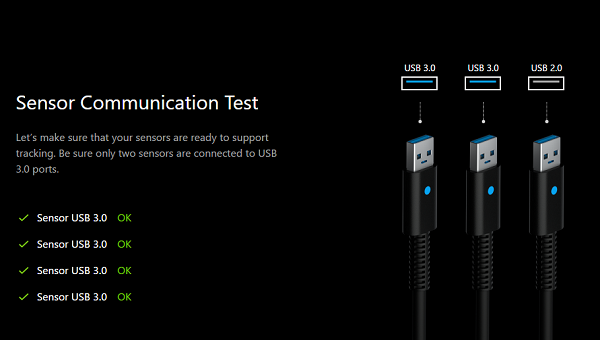 Notes
* - For the Startech USB card, for Windows 10 don't install the drivers off the website. Windows 10 has newer drivers. I learned that the hard way.
Last edited: