I am building a new machine (mid-ranger, minimal gaming, lots of storage for family "cloud"). My old machine is in my sig - it was
built in 2011
or so. [Er, no sigs? Been away from [H] for so long....] Anyway,
Corsair HX620W
, Q9550/Gigabyte/DDR3/
water-cooled
/etc.
It has been in storage most of that time. And I did
nothing
to prepare it. Just boxed it up, still filled with water (didn't plan for it to stay in storage, but... life happens).
Now I am wanting to at least boot it up, to pull all my [very] old data off it, before I build the new rig. But, I was going to flush/fill the H2O loop by only running the Swiftech MCP655, before running it. As you can imagine, a lot of water has permeated the tubing.
Normally, I jump the PSU to run whatever I need to test w/o booting up. But that isn't working (paperclip in pins 3 & 4, or 4 & 5). Nothing happens. I went and re-plugged in everything, with the loop running into a bucket & planning to just kill the PSU switch as needed. But, still nothing.
Is my trusty HX620W done?
Time for a new PSU before I even get the other parts in? I shouldn't need more wattage, so was hoping to save the $100+. Any trouble shooting tips for a PSU?
Thanks in advance,
-bZj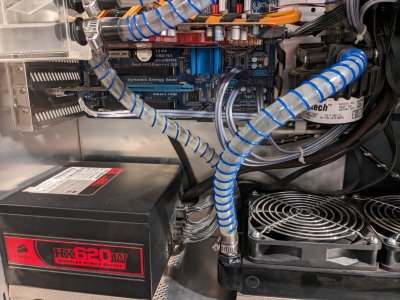 Last edited: