Joined

May 19, 2015
Messages

182
Moved to Ebay, $475 starting bid SOLD
Gigabyte X399 Designare EX (Rev 1.0)
AMD Ryzen Threadripper 2950X
Noctua NH-U9 TR4-SP3
EK-FB GA X399 GAMING RGB Monoblock - Nickel
Monoblock & basic GPU are not listed on Ebay. Mention [H] after you win & I'll throw them in.
My heatware
Always inside of a 4U high airflow chassis and never overclocked. Stability is always more important.
I have invoices for everything but the Monoblock, which I purchased from p0lish in Their Sale Thread. These invoices will go to the buyer for warranty/rma purposes

COMPLETE CONTENTS of mobo package included.
I can provide photos of the original unopened items in the MOBO box if requested. Only G Connector, M.2 screw kit, & SATA cables were utilized. Sticker sheet curled on edges from time.
Motherboard has been dusted with spray air; which has occasionally contained bitterant over the years. PCIe slots & RAM slots were cleaned delicately with contact cleaner or 91% isopropyl alcohol during unpowered during maintenance periods. Board ran with a 1900X & Noctua cooler until 2020 (lower wattage), Monoblock & 2950X were installed until 2022, & Noctua cooler was re-installed in 2022 when planned decommission began. Powered by
Seasonic Flagship Prime Series SSR-1200PD
since purchase with CyberPower PDU & battery backups. Bios currently flashed to
F13a
version since December 2021.
When transitioning between Noctua to Monoblock, and back,
Thermal Grizzly Hydronaut
was utilized.
Thermal Grizzly Minus Pad 8
was used when mounting the Monoblock; except where an unusual thickness was required & then EK pads were utilized. New pads were utilized when transitioning back to manufacturer Mosfet cooling. Manufacturer provided M.2 pads were utilized with NVMe drives, and I suggest they are replaced before installing your own. If memory serves there were marks in the mounting face of the Noctua NH-U9 which did not impact mounting nor cooling. Didn't want to resurface with glass and wet sanding as the integrated mounting screws would make process difficult & the surface was otherwise good quality.
The EK-FB GA X399 Monoblock has been disassembled for cleaning. My intention is to give it another thorough scrub with water/vinegar solution & a firm bristle toothbrush before shipping out. Some flat head screws have slight indication of rust from sitting. Will be cleaned as well and then very lightly oiled (one drop) before sealing in a small ziploc bag, probably a 3in1 oil unless something else is preferred. Can clean and reassemble as well, but typically suggest the buyer do that for safety.
The Noctua cooler will be removed and shipped in it's own box with fans when purchase is completed. The CPU will not be de-socketed, to protect the pins & maintain mounting pressure, but the carrying pack & tool will be included.
An
ASUS EAH5450 SILENT/DI/512MD3(LP)
will be included to provide graphics output via HDMI for any setup. (apologies but there's no good links, that overpriced Amazon page is for specification reference only)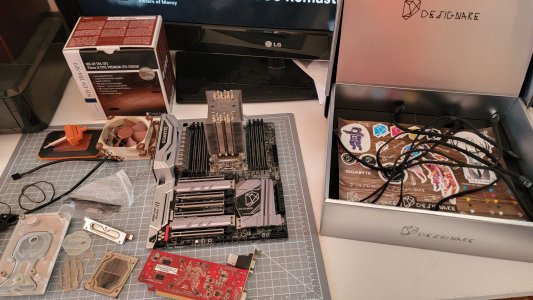 Happily mistaken that the 2950X had no nicks or marks. When I removed the cooler I recalled that it was actually the old 1900X that was marked.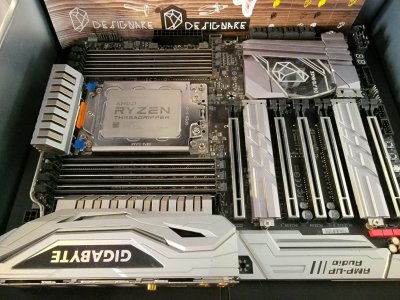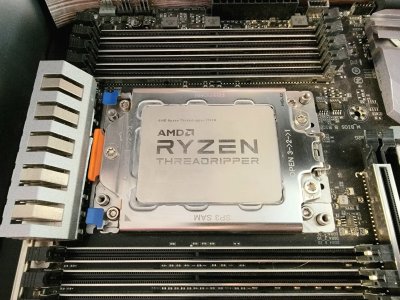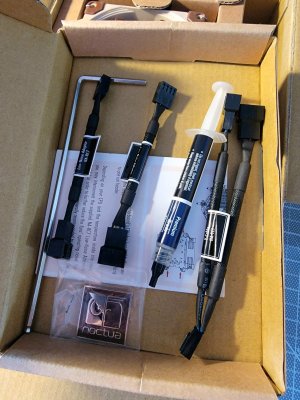 Showing the marking on the Noctua nickel plating.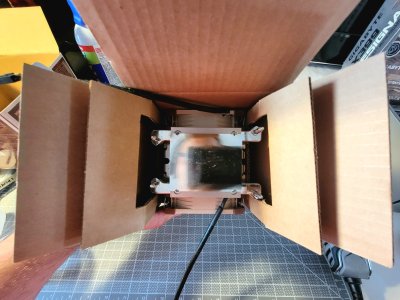 Intentionally showing a
bad image
immediately after wiping away paste. Cuz I'm honest, and you'd visually inspect it yourself on purchase.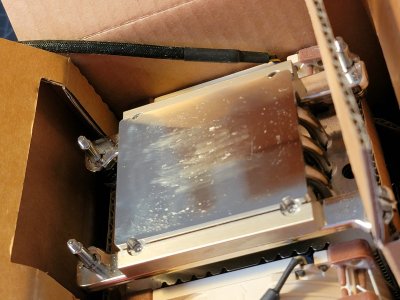 Last edited: