Joined

May 4, 2005
Messages

175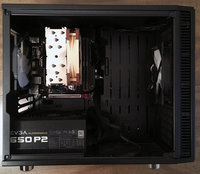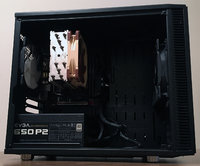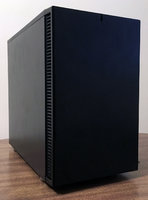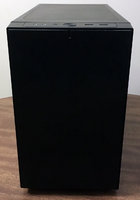 Looking for $599 + shipping. If you're interested, just send me a zip code and I'll see what the rates look like.
Though I'd prefer not to, I'm willing to part this out, with a preference for keeping as many components together as possible. Just send me your best offer, keeping in mind insured shipping would probably be in the $15 dollar range without the case.
I only have a small amount of feedback on
HeatWare
, but I do have 100% feedback for 89 transactions on eBay if you'd like a link to my profile there.
If you'd like some more detailed pictures or have any questions, feel free to ask. Thanks!
---
I built this system last year with all newly purchased components, including a GTX 970 I've since sold. Add a video card, you've got yourself a fast gaming PC that'll easily handle anything you can throw at it. Or if you're simply looking for a regular ol' desktop, I've been using it with the on-board video and it works well with that, even still allowing for photo and video editing as well as some light gaming, depending on the title.
I've never had any issues with this setup, but I'm looking to sell it and replace it with a cheap laptop since having a higher-end machine isn't a priority at the moment.
I originally decided on a mini ITX build since I was tired of the usual gigantic tower setup, and I'm happy to say it worked out very well, being smaller, visually appealing, and more portable without sacrificing any performance. A full-sized dual-slot video card fits with enough clearance. The case also allows for a watercooling setup if you're so inclined.
No hard disks/SSD included since I don't feel like addressing the issue of the data stored on them and would rather just keep them to deal with later. Does include the additional cables for the modular power supply as well as some other miscellaneous components.
Everything's in excellent condition, pretty much like-new. Could just use a bit of compressed air or some small cleaning instruments to get the dust out of some of the tight spots / air filters.
---
CPU: Intel Core i7-6700K 4.0 GHz quad-core
https://ark.intel.com/products/88195/Intel-Core-i7-6700K-Processor-8M-Cache-up-to-4_20-GHz
https://www.newegg.com/Product/Product.aspx?Item=N82E16819117559
Cooler: Noctua NH-U12S 120x120x25mm heatsink/fan
http://noctua.at/en/nh-u12s.html
https://www.newegg.com/Product/Product.aspx?Item=9SIA9PV3Y61192
Memory: Corsair Vengeance LPX 16GB (2x8GB) DDR4 3000 (PC4 24000)
http://www.corsair.com/en-us/vengea...00mhz-c15-memory-kit-black-cmk16gx4m2b3000c15
https://www.newegg.com/Product/Product.aspx?Item=N82E16820233852
Motherboard: Gigabyte G1 Gaming GA-Z170N-Gaming 5 LGA 1151 Z170 mini ITX
https://www.gigabyte.com/Motherboard/GA-Z170N-Gaming-5-rev-10
https://www.newegg.com/Product/Product.aspx?Item=N82E16813128846
Power: EVGA SuperNOVA 650 P2 80 Plus Platinum modular power supply
https://www.evga.com/products/product.aspx?pn=220-P2-0650-X1
https://www.newegg.com/Product/Product.aspx?Item=N82E16817438055
Case: Fractal Design Define Nano S Silent Mini ITX mini tower
http://www.fractal-design.com/home/product/cases/define-series/define-nano-s
https://www.newegg.com/Product/Product.aspx?Item=N82E16811352061
Last edited: