Joined

Oct 29, 2000
Messages

38,079
For sale is my trusty Pascal Titan X with fullcover EK Water block (nickel plated copper, black acetal) and EK backplate
This GPU was originally seen in
this build thread
, and later in
my latest build thread
.
The GPU is in both cosmetically and functionally great shape.
Some details about the GPU:
1.) It is a pretty decent overclocker as long as you keep the temps down. I'm able to have it consistently run in game between 2000 and 2080 Mhz. YMMV depending on how well you cool it. (I usually try to keep loop temps at 30 to 35C and thus core temps have sat just below 40C at load overclocked.) Memory clock goes to +500 in Afterburner (the max slider position) no problem, and thus sits at 5508Mhz.
2.) Its entire life, the GPU has been in a case with excellent airflow, under water running at a target of GPU core temps at load of 38-39C, and as such has not seen excessive thermal stress. During one gaming session years ago I accidentally switched off my fans and it got a little warmer, but it was still well below typical air temps.
3.) Other than replacing the stock cooler / backplate this thing has never been modded in any way, volt or otherwise, not even in reversible ways that have been undone.
4.) Slight overvolting (as much as is allowed by factory firmware in MSI Afterburner, no modding ever done) was tested when it was new, but wasn't found to improve overclocking so it was returned to stock, and has been used that way since.
5.) GPU has been used for gaming and basic desktop use only. Never any mining or any kind of compute projects.
6.) My loop has always been exceptionally clean. I have been running a mix of clear and blue EK Ekoolant (old, when new) or EK Cryofuel (more recent) I have not taken the lid off of the water block to inspect it, but if it looks anything at all like
the CPU block I took off a while back
, it should be in excellent shape.
This thing has been an absolute trooper for me over the last few years. I'm almost sad to see it go.
It will ship in the original box, with original accessories, You will get the video card with the EK waterblock and backplate installed on it, as well as the stock cooler and backplate either in the same box, or packed separately depending on how I can make things fit. The blcok will be thoroughly rinsed out with distilled water and capped. If you really prefer the stock cooler installed, lets talk. For the right deal I could be persuaded to reinstall it.
I have to admit, I have struggled a little with where to price this thing, in large part because of the crazy market for GPU's right now. I decided that since I had to overpay for my replacement GPU, all is fair in charging current market rate in trying to recoup some of that money. A search of recent sales on eBay has the 12GB Titan X (Pascal) going for as much as $800. This was without a water block.
I am going to start my asking price at
$650 shipped
(with water block and stock cooler included). I'm not sure if this is fair, but it seems like a reasonable starting point., and we can go from there. If you have a reasonable counter offer I will consider it.
I think I'm a well known quantity on these forums by now. You can also check
my heat
if you want more reassurance that I will not screw you over.
Item is located in greater Boston. I can either ship it, or if you are local and prefer to meet in person, I can do that as well.
I'm probably forgetting something, but feel free to ask any questions you may have, and I will update the listings if I think of anything.
Pics from 2016 when I bought it and installed it: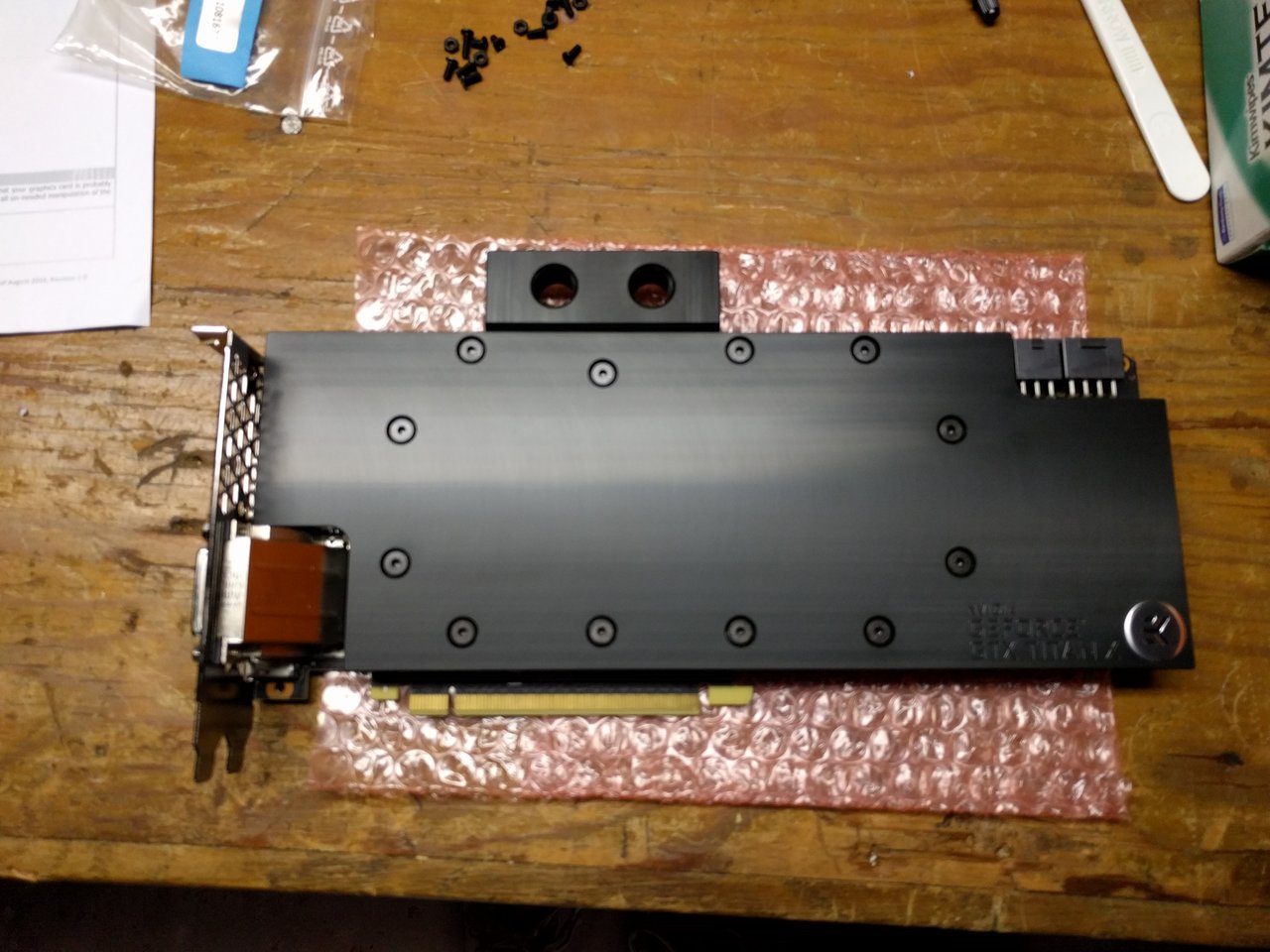 Current Build: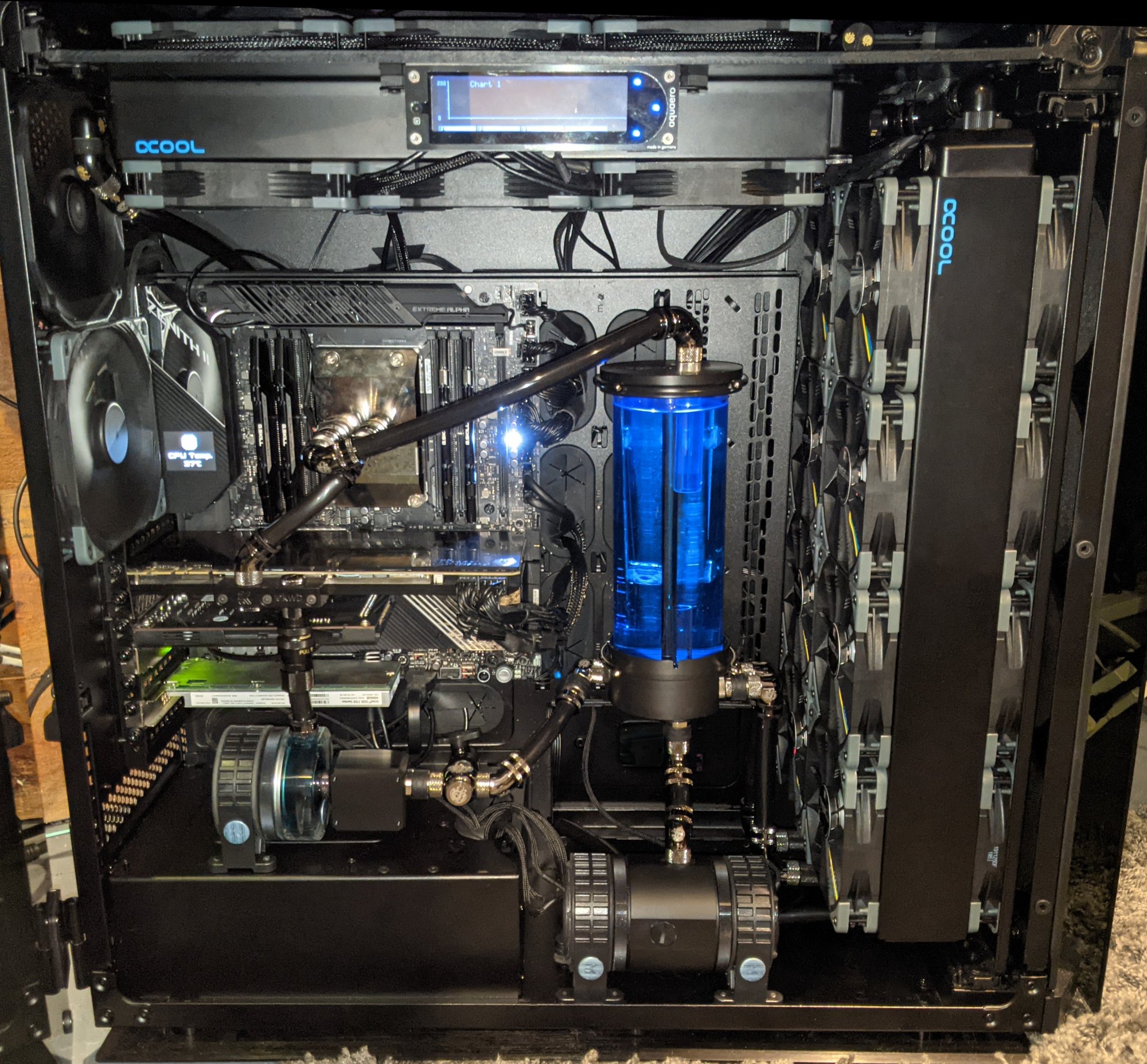 Thanks for looking.
Last edited: