Thought I'd better get off my arse and kick off our strategy thread for this year. We're currently running 6th in FB but it's only to be expected prior to the start of the events in which we normally make up ground, the sprints.
I am currently just focusing on personal targets right now and engaging in the ongoing game of cat and mouse with
RFGuy_KCCO
(dude, please stop buying new kit, we're going to cost each other a fortune
).
To hopefully assist with our combined project knowledge, below is the latest version project data spreadsheet I first shared early last year. Work demands continue to get in the way of life which means that I haven't been able to update much in the last 3 months so please take the info with an appropriate pinch of salt.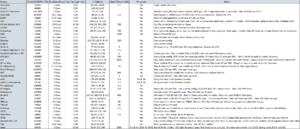 The parts that are probably most out of date are ppd and tasks run times. I'll try and find the time to start bringing them up to date and to start to reflect TR2 and RTX2080 performance.
Edit: To enable the team to download and copy/paste IPs/scripts, I've created a Google spreadsheet link for the above data sheet
here
. Also, an assortment of Linux update scripts have been added. I've not set a password so please don't share this link outside of this strategy sub-forum.
Last edited: