Been a very long time since I listed anything here. My heatware is
jmurray
, not sure if that's still a thing. All items are located in Sugar Hill, GA 30518. Local pickup welcome. All prices are OBO and include shipping except the case. Feel free to ask any questions.
Asus Z87 Deluxe, Intel i7 4770k, Crucial Ballistix 16GB (8gb x2) combo - $225obo.
I bought this new in August 2013 and it has ran great since then. I still have the original motherboard box that everything will ship in. I/O plate included. Does not include the H110 cooler.
Samsung 840EVO 120GB SSD 2.5" drive x2. $75 each. Bought these new in 08/2013 as well. Ran in RAID0 with no issues.
EVGA Geforce GTX770 SC 2GB video card - $75. No issues, runs great. I played one game with it and never overclocked it. Renders Facebook great
Corsair H110 liquid cooler - $50. Does not leak and cools as it should. I did have to replace one fan a while back so one does not match.
Corsair HX850i - $150. This was a replacement after the original HX850 had issues on one of the 12v rails. Runs awesome and will include the USB cable to plug into the mother board.
HGST 3TB 3.5" hard drive x2 - $50 each. Used in RAID1, never had issues with these.
Samsung 2TB 3.5" hard drive x2 - $40 each. Used in RAID1, also never had issues with these.
Fractal Define XL case - awesome case. $100 plus whatever shipping will be. Prefer local pick up on this since it is large.
The other 16GB kit developed errors according to memtest, it's available if someone wants it.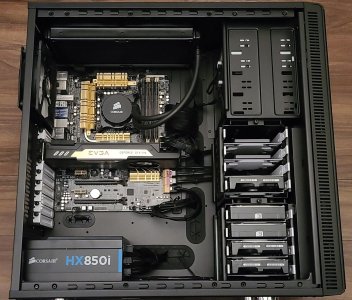 Last edited: