Joined

Mar 11, 2007
Messages

728
Usually
Doom Eternal
tells me when it wants a newer GPU driver after receiving a patch: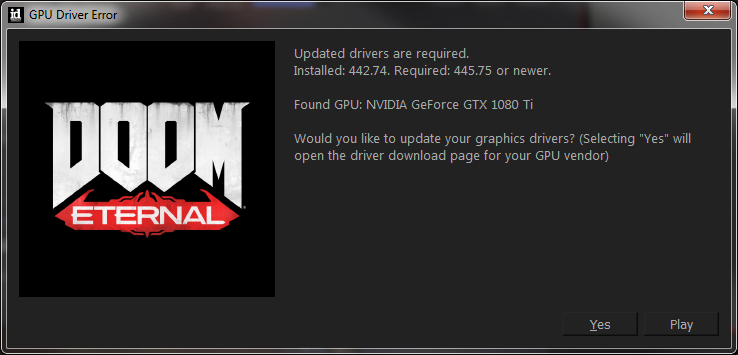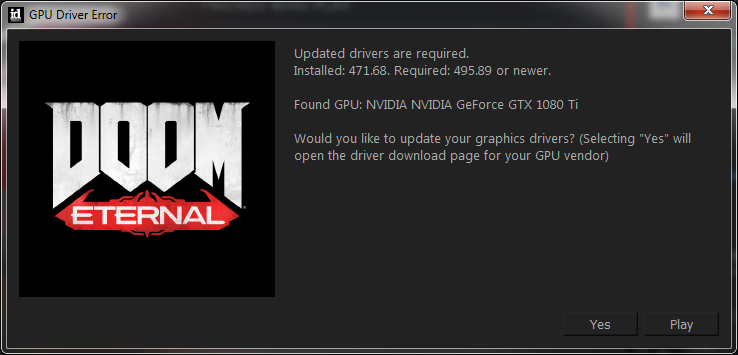 And if I don't update, I usually experience some graphical glitches and very minor performance issues, nothing major. I thought it was pretty handy that before the game even launches, it tells you that you should probably update your GPU driver. Nevertheless, I usually
don't
update when the game tells me to, and for the most part it still runs fine. But obviously that's just for my particular system, can't speak for everyone. Sometimes updates do break games, sometimes newer GPU drivers break games, never really been much of an issue in the nearly 30 years I been gaming on PC.
On the other hand, I had an issue with UT3 where it ran fine from Fall 2014 until Summer 2021, then all of a sudden developed an issue where if I move the mouse, the framerate tanks
hard
, from well over 300 fps down to single-digit fps. I was never able to figure it out, eventually uninstalled the game. That's the PC gaming life for yah.