Joined

Oct 17, 2000
Messages

1,869
Last week I upgraded my sons PC to a 7600X, on a Gigabyte B650M-DS3H, and G.Skill 6000 C30. I also dropped in a 1tb nvme since his games were killing the 500gb he had in there. I did the fresh install of W11, AMD chipset drivers, latest NV drivers for the GPU, and all updates. I couldn't get AMD Expo to take until I updated to the Gigabye March 14th BIOS.
My kid is super particular with his games, mods, configs etc and so he hated the fresh install and wanted the old Windows 11 SSD back in. Doesn't matter how much explaining I did that coming from his 10600K it kinda made sense to always do a fresh install. Anyways after a day of trying to get everything back in order on the fresh install I thought fk-it I'll just ghost his old drive over to the 1tb. Did all the DDU uninstall, and basically did the AMD chipset etc.
After that I figured we were smooth sailing as we ran some AAA games, benchmarks etc and everything was butter no issues. Then a few days later he tells me his screen is randomly going blank for a moment, and some Roblox games are super slow to the point of unplayable and the PC will sometimes reset when it freezes—weird. Temps were fine on his H100x AIO and his older TX750 PSU should be fine.
So I run Furmark, then I run Furmark CPU test, and finally I run them at the same time. No issues. Then I fire up Prime95, still no issue. So I was left scratching my head and just started using his PC as I was working from home anyways. About a 1/2 later I have a file explorer window open and it stops responding. Shortly after Firefox stops responding… and then Chrome stops, and finally I can't move the mouse or use the keyboard. After 2 minutes the PC just resets, so wtf?
While obviously using a previous OS install is never a good idea—I know—I found it hard to believe it could be causing issues so bad the PC would reset.
Changing Expo to Jdec default didn't help so after some hair pulling, I just pulled the stuff out and installed a B550 board with a 5600 and his older 3200 Corsair ram. No issues.
While I was randomly looking at the B650 board I noticed some scrapes on the bottom and I don't know if I did this while installing or during its removal, but I'm curious if the issues could be related to where the damaged traces are located. The damage doesn't look too bad…or deep, but it's also something Gigabyte surely won't fix. I'm also curious if the damage isn't too bad or related to the issues, could it be related to the install, the Ram or something else? BIOS was at default settings except for the Expo. His GPU is mounted vertically using the Lian Li riser (PCIe 3.0). I didn't set the PCIe to 3.0 in the BIOS but just 10 minutes ago he was getting 5fps on some games and so I did change the PCIe to 3.0 on the B550 and it's smooth now.
But—sure I forgot to set that on his B650 but I also doubt that would hard lock and keep resetting his PC. And why would Furmark and Prime95 run but simple things in Windows take down the PC.
Anyways hopefully I didn't kill this board.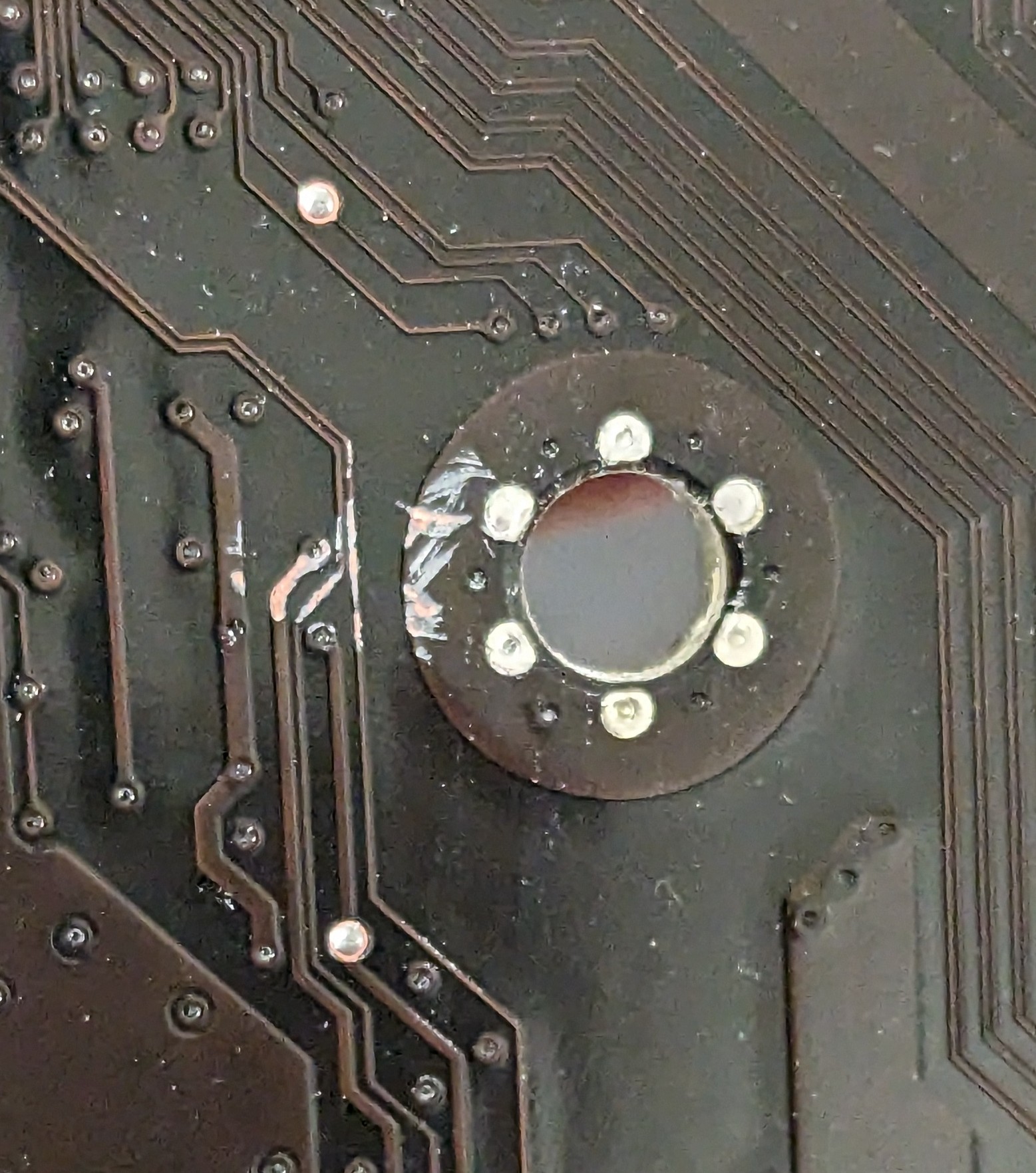 Last edited: