Joined

Nov 10, 2011
Messages

97

It's time for DDCM to start the next project!
So… I present to you, DDCM Desk! Unique. Simple. Powerful.
We will start by thanking our sponsors that have partnered with us to make this project a reality!
First, we start with
ModMyMods.com
(MMM), who partnered with DDCM for our last mod, Project: Military Tech. They have continued their support and I'm very excited that they are coming onboard again.

Second, we welcome a new partner with DDCM,
Alphacool
! After hearing about our project and about PMT, they were happy to join MMM in supporting this project.

Third, we have another new partner in InWin. They will be supplying the
Aurora fans
and
Classic 900W PSU
for the build!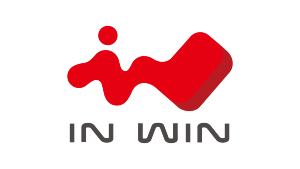 I can't believe we've already gained a 4th sponsor! Nanoxia will be supplying our beast of a desk with their one and only
Retro Mechanical Keyboard
with the white switches. I can't wait to feel the typewriter nostalgia again!! Now it looks like I'm going to have to mod a mouse to match....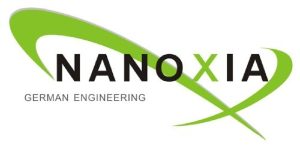 Project background:
Inspired after I saw several majestic works of PC art and the need to replace my old desk. My old desk was clunky, super heavy, and only provided a cabinet with limited airflow for the storage of my modded PC, Night Shark.
After great PC desks like L3p D3sk by Peter Brands and Project Alternate by DeBlow came into the spotlight, I began to contemplate ways to own such a unique piece of modding mastery. As I have always been a fan of the non conventional builds, thus became the challenge of making one my own. Now that my workshop can handle this sized project and I gave away my old desk to a local gamer, the stage is set to begin my own approach to the PC Desk culture. It has been a long time since I have created something for my personal use and very excited about the prospect of recording/editing content on this new desk.
So kick back relax and enjoy this journey with me as I work to create this unique creation. Let me know what you think and I'm always open to hear suggestions or other's experience with similar projects.
Our final renders. With a possible move in the near future, I will most likely make it a free-standing desk instead.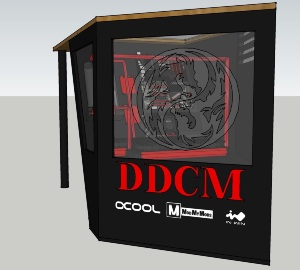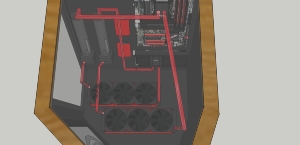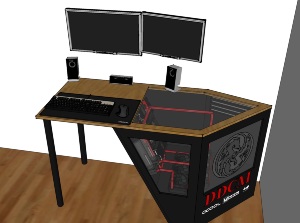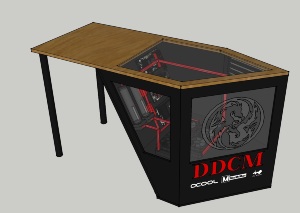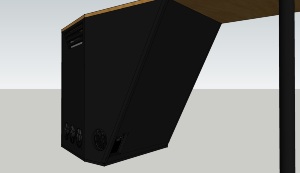 Last edited by a moderator: