For a while now, I have been planning to build a case for my special requirements, such as
- small,
- light,
- full size GPU,
- ATX PSU,
- modular
- cabin bag size friendly.
+ good ventillation, not noisy and easy to work on.
Being a generalist kinda a guy, I wanted something fully modular and customizable, so I ended up with something like a case construction kit. I made customizable subframe from smaller blocks and a set of side panels that bolt onto this subframe. This design allowed me to build all these different layouts for fun from a single kit.
Case layout A:
- 35cm x 20cm x 15cm and 10.5 litre. Fits perfectly into a cabin trolley bag with plenty of room to spare.
- 3.8 kg fully loaded. I may be able to shave off another 0.3 kg if I replaced my GPU with a GPU that has a lighter cooling (like an MSI Armor).
- Fits my full size MSI GTX 960 Gaming without problem. I could fit a 34cm long 18 cm tall GPU and a 7cm tall CPU cooler if I wanted to .
- The standard size, semi modular CM ATX PSU fits just fine.
- I can detach and re-attach the GPU compartment in about 30 mins (yeah if it wasn't a cheap prototype, I could cover this in ~5 mins). In that form, it is only 7.7 litre and 2.9 kg.
- It is well ventillated, and has plenty of space for the cables. The CPU and the GPU never goes over ambient + 30-35C even under full load. The CPU idles at ambient + 14C and the GPU at ambient + 30C (silent mode, 0 fan speed). No noise level increase under 100% load. It goes around 30 dB.
So far, this is the one that fits my current needs the best. Proper sinking, paint and other misc elements were added over the earlier raw alu prototype version.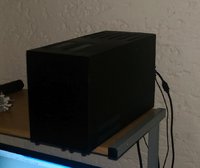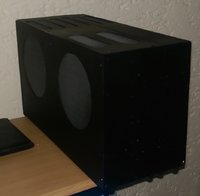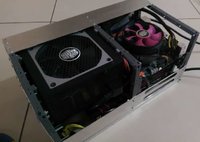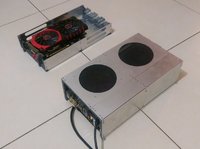 Case layout B:
This one is pretty big, 35x25x20cm and 17.5L. The good part is that it has massive free space inside. Practically half of it is empty. It is possible to add a 5.25" and several 3.5"s. Or a 5.25" with the PSU on top of it. Then you can fit a 15 cm CPU cooler easily. Weight is unchanged, below 4 kg.
I need to figure out what to do with the extra space. Once I know (water maybe?), I may move to this instead of the first layout.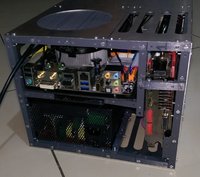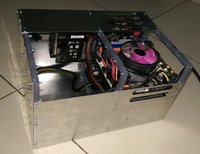 Case layout C:
This one is the replica of the Raven RVZ01 layout. I kinda liked it back when I had one. I was curious if I can build one with my little set. I think the end result was quite good.
- 35x35x10cm, 12.25L.
- Still under 4 kb loaded. The RVZ01 is about 3.8kg, the case only.
- The rest of the specs are similar to the RVZ01 regarding GPU size, PSU capability (ATX), and CPU cooler (6-7cm).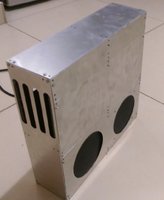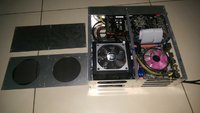 I'm wondering what to build next. I have a VESA build in mind to attach to the back of my LCD. Or maybe something more weird looking. Or both
I paid about 150 USD for the parts and had to do only light DIY (like cutting threads and drilling some holes). This even included extra bits so I may size it up or build another, HTPC size case with an SFX PSU. Also, if I decide to go water cooling, The design allows another compartments to be fitted or removed as needed.
I already deigned some better front panels and I plan to add stuff like a switch panel, a USB panel etc. Then I can customize the front panel as well.
Another good thing with this is that it is very simple to replace the panels with wood, plastic, glass or other plates. Just need the holes to the right place and all is fair game.
I'm contemplating to make a kickstarter or indiegogo project out of this, but I don't know if it would gather interest. I don't think many people have such a special set of requirements that would warrant a customizable design. Plus it doesn't look as stylish as other boxes with the straight lines and boxy shape. I don't know but regardless, I'm happy with mine. I spent more time lately to come up with possible cool designs than playing games
.
Please let me know what you think!
Last edited: