I'm a big sleeper guy, weather it be shoehorning a v8 into a pinto or Chevette or putting a new system into a old case. Its just my thing.
So for this build I'm going to be building something for myself. I tend to build things for others or to sell, but today its all about me. I only use my PC for playing older games, I keep it offline almost 24/7 and I have like 2 newish games I play, FalloutNV and M&B. So this build will likely turn some heads with my pick of parts.
The case will be a Legend 130CD Supreme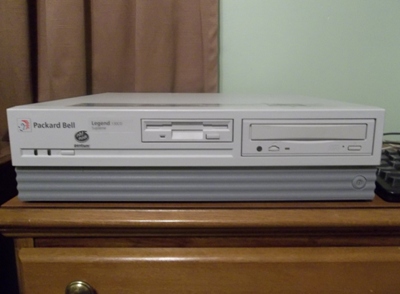 Yeah its small for such a old system, its an LPX case too so yeah fitting a ATX system in it will be hard.
Most of the parts will be stuff I already had setting around.
For the motherboard I'll be using a MSI Z370M GAMING PRO AC. I bought it a ways back for a HTPC build and the buyer backed out. So why not put it to good use?
CPU, I got to go with the i3-8350k. I'm going with this CPU because I need the best single core performance one can get
.
GPU, I'll be using a low profile 1650. If I can ever find two Id love to use 2 low profile 950gtx in SLI because why not?
For a monitor I'm defiantly going for a CRT. I have a 20 incher. Tops out at 2048×1536p at 70hz. Not to bad. Sad thing is, no modern GPU can drive it. CRTs are not like LCDs. You need a very good DAC to drive higher resolutions. So I'll have to spend big on a DP to VGA thingy.
PSU will be a simple 650w seasonic. Id say there is nothing to see here, but I'll be making custom cables for it.
The OS will be Linux and if I can make it work 7 and it will be installed on a 512gb M2 drive
Now on to the fun stuff. Id love to water cool the system. I have the parts. But Im on the fence for or or water
Personally I want to use my old gold koolance blocks as is would look really cool having all black parts with gold blocks.
For a rad I have quite a few to pick from. I have alot of 80mm and 92mm rads I use for sleepers, a 240mm and a few 360mm rads.
Id likely use a the scythe big shuriken 3 if I went air.
I'm not sure what I'll put the in the ODD and floppy bay. I was going to put a very early DVD-RAM drives and LS-120 drive in it, that would be cool But Id never use them. Id have to fight with old IDE drives if I used them.
I may put the cover from a 5.25 and 3.5" floppy drive in the bays. This will give me a tick of air flow.
But that is a detail that will have to wait.
Last edited: