BioStar B350GT3 Review by noko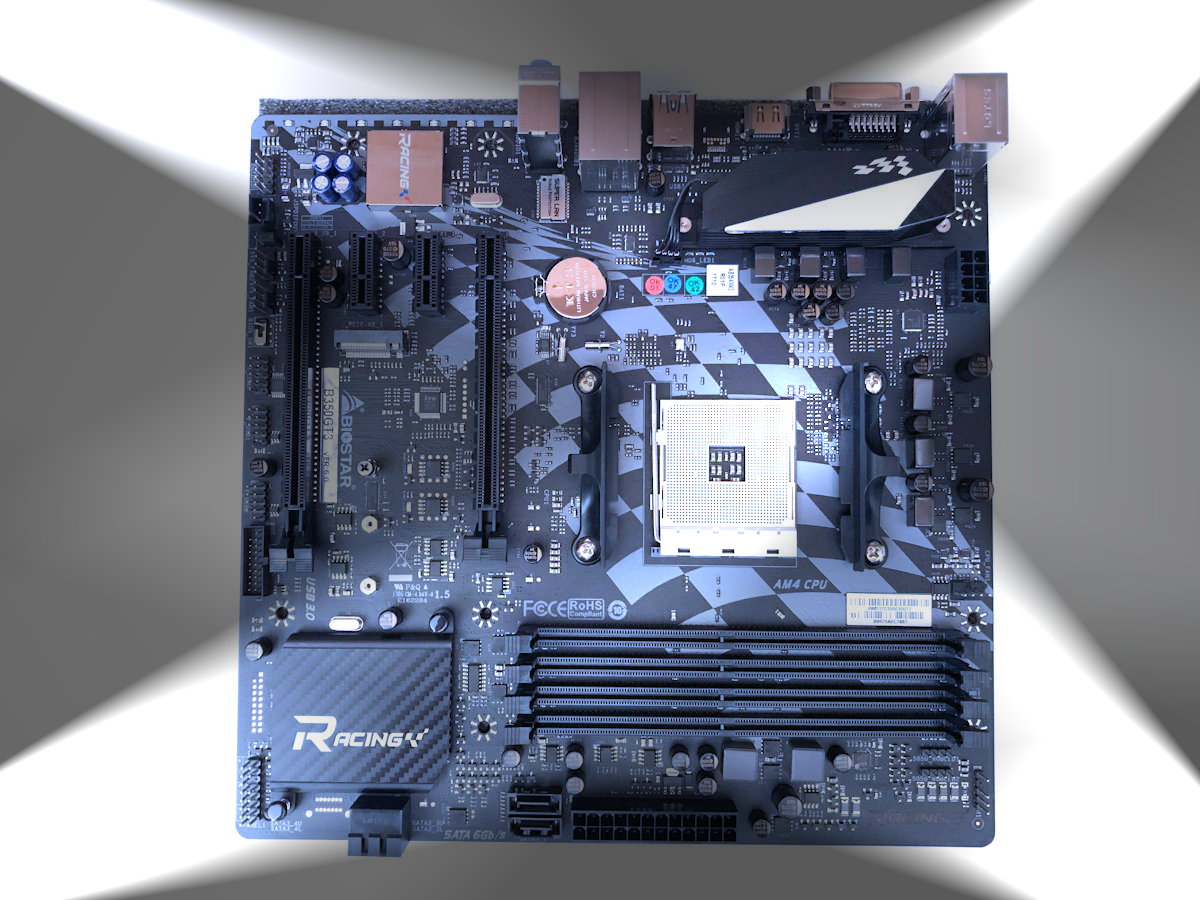 ​
BioStar
BioStar has been around since 1986 making motherboards. Currently they produce motherboards both for AMD and Intel. Their headquarters is in Taipei Taiwan. Besides motherboards they also make:

− graphics cards, currently they sell NVidia GTX 1080 series and AMD RX 580 series and down.

− SSD's, mini PC, Keyboard/Mouse, Barebones systems, accessories from remote controller to thermal compound

− http://www.biostar.com.tw/app/en/

B350GT3 Racing
Well when you are having fun you may end up with more kids then planned. While sex had nothing to do with this (VR does not count) I ended up with a second orphaned AMD Ryzen 1700x staring at me from a lonely shelf.

Of course, solution was to update one of my systems and the most likely candidate was the living room HTPC which had an ASUS M5A88-M MicroATX board with the famous Bulldozer FX 8350 with 16gb of DDR3 2400 running at a slower pace of 1866.

Considering a whole new platform from AMD who lately has not hit it out of the park for a very long while, I was very much surprised when in the end things turned out way better than ever expected. So, the review really stemmed from appreciation of good products.

Board
MicroATX form factor with the following features:

This board currently sells for $84.99 on Newegg

https://www.newegg.com/Product/ProductList.aspx?Submit=ENE&DEPA=0&Order=BESTMATCH&Description=Biostar+B350GT3&N=-1&isNodeId=1

Feature wise for such a low price is very good. Two fan headers vice one like on the ASUS Prime B350M. Two VRM phasing for the ram vice single phase on most of the boards in this price range, even the Gigabyte GA-AB350M G3 for $116 only has a single phase, or the MSI B350M Mortar, this can help in memory OC.

The M.2 slot is shifted towards the second pcie slot which keeps it away from a two-slot graphics card and allows cool air to flow across it – it is not under the graphics card unless you have a three-slot card.

Two RGB 5050 headers vice one or none. If that is your thing.

Four memory slots for up to 64gb of memory and surprisingly supports memory Overclocking to DDR 4 3200. This is what James Prior from AMD responded to Forbes interviewer question:

"I think the community definitely appreciates that and I know on forums there has been a lot of discussion about which kits work best with Ryzen. However, I think there's still some murky water regarding enthusiasts understanding of this. You'll get people looking to build a Ryzen system and even I have had issues – a specific memory kit will work fine on an Intel system and also with one Ryzen board, but not with another. Also, a lot of people are in the situation of upgrading from an older Intel system to Ryzen and are using 3,200MHz memory that's a year or two old, yet they can't seem to get it to that speed using their new AM4 motherboard.

James: There are definitely some mismatched expectations there. For example, if you look at a current budget Intel board, few have any support for XMP. You usually can't go above the 2,400MHz, but we're offering support for faster memory speeds further down the stack. To add a bit of confusion to the mix at the moment, it's really only the B350 chipset motherboards that we're seeing this hit and miss memory support. This is down to the design of the board and how much time the manufacturer has invested into that board in maintaining support for high memory speeds. We are finding most B350 boards can hit 2,933MHz without any issues and some can do 3,200MHz. It's that last little bit of special magic sauce – the number of layers in the board and how much trace copper they put into it and the time they invest in the BIOS. Ultimately, there's better support for faster memory with a B350 motherboard compared to a similarly-priced Intel B250 motherboard."​
https://www.forbes.com/sites/antonyleather/2017/05/18/an-interview-with-amd-the-latest-on-ryzen-memory-support-game-performance-and-ryzen-3s-launch/#5ff43185ff43

Well the good news is that this BioStar board right off the bat supported DDR 3200 from a Hynix die ram module from Corsair flawlessly on the latest bios, albeit at a higher voltage but never the less works perfectly at the rated memory timings. Looks like BioStar did put in that special magic sauce both on the board and into the bios.

USB 3 Gen 2 - 10gbs which is absent in many of the AM4 MicroATX motherboards. Plus, no pci slots for those that no longer use old obsolete cards. Still if you have an older pci sound card or other device other lower end boards have pci slots.

Dual bios with a switch, a bad flash does not mean a bad board and waiting for a replacement. The reset bios jumper is in a location that in my case was very hard to get to. Now I thought bios jumpers were of the past, not yet.

The CMOS battery is in a good place unless you have a low-profile cooler that spreads out and covers it, luckily, I did not have to pull the battery to reset the bios:

Board thickness seems a little bit more than the Asus board it was replacing, being a MicroATX board it does not have to be as thick as a full-size board. BioStar B350GT3 measured .0565" while the old ASUS M5A88-M measured .0555". Seems sturdy enough.

Last edited: