Joined

Aug 1, 2005
Messages

4,568
Ordered one of these bad boys on Amazon on Sunday and it was originally scheduled for May 14th thanks to the Chinese Coronavirus but it got bumped up to this Sunday so I'm pretty excited to get it. I'm currently using an Asus PG278Q 144 Hz G-Sync display which has served me really well the last few years.
Brightness:
Seems decent, not a whole lot brighter than my Asus PG278Q which is from 2014. It's definitely not as bright as the Gigabyte Aorus KD25F I had previously which was 400 nits+.
2D Picture Quality at 27":
So a lot of people think they'll see pixelation at 1080p/27" and in my case I don't really notice it since I sit about 2 feet away from the monitor and i have it mounted on my wall. I previously had the 25" KD25F and found it too small for my liking so right now, this 27" hits the sweet spot.
3D Gaming at 27":
Impressions coming soon.
Colors/Sharpness:
Out of the box they're a bit dull so I just set it to user define + standard and gamma at 3 and now it looks pretty good. I also had to increase the Sharpness to 8/10.
DyAc:
So this is the entire reason I bought this display, to have BFI that doesn't lose brightness when turned on. I can confirm that this monitor does not lose any brightness with DyAC enabled unlike every other competing display which tend to cut their brightness in half with BFI enabled. I briefly read about changing the vertical totals on these forums and since I likely won't hit 240 FPS even with a 9900k@5 Ghz and 2080 Ti in the games I play (Warzone/Apex Legends), I settled on 182 Hz with VT of 1350. I tested many different vertical total values out and 1350 just seemed to work best as the top/bottom of the screen had minimal blurring and the middle was great. I'm not sure if I captured this correctly using my iPhone X but this is the best I could do:
Image of the 3 UFO strip taken from the raw video (youtube caused a lot of compression artifacts):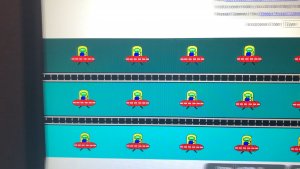 Thoughts:
I'm extremely happy with this monitor so far. It has butter smooth strobing with no discernible input lag penalty. The first time I fired up Apex Legends I was blown away by how smooth the enemies tracked. If you're on the fence about this monitor, BUY IT!
SINGLE STROBING IS NOT PRESENT. Someone asked about this over at the BlurBusters forum and I ran it at 60 Hz for them and this thing does double strobing at 60 Hz. So I guess if you're a console player, you'll have to look elsewhere.
Reviews:
http://playwares.com/dpreview/57666851

Product Pics: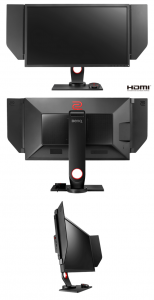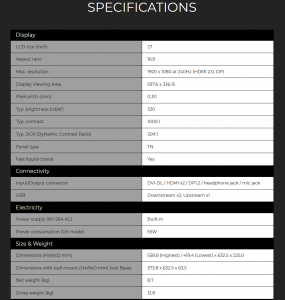 Last edited: