SOLD.
Up for sale to active [H]orde DC'ing members is an Asus Strix 1080 TI OC Gaming 11GB Nvidia graphics card.
$650 shipped to the US.
Price includes USPS Priority mail shipping to the US, with signature confirmation.
The card was purchased September 5th, 2017 from Amazon. 9 months old.
Payment through Paypal or Google Pay -- hopefully you could pay through debit or bank so I don't have the 3% fee.
Will include a PDF of the Amazon order invoice, and print out.
Original box included.
I've misplaced all but 1 of the small port covers that slip into the HDMI, DP, and over the DVI ports. If they are critical to you I can turn my office upside down to find all of them.
I have used this card for DC'ing for most of its time being in my computer -- and about 2 months of mining. I've used the software EVGA Precision XOC to attempt to keep the power limit at 70% or lower. I know that I caught one of the NiceHash algorithms forcing the power limit to 100% during the 2 months that I ran it. The cooler on this beast of a card easily keeps up with the heat and I never remember seeing a temps over the mid 70s C (the norm was under 70C). I played around with running PrimeGrid at 100% power limit, and it could keep the card cooler than my old EVGA 1080TI Gaming SC card at lower fan speed % The card has a beast of a cooler. It is a 2.5 slot card, and is longer and taller than many other 1080TI cards.
I'm selling the card to get money for a high core count Intel system.
Please PM me if you are interested in buying.
Exact model name:
ASUS ROG-STRIX-GTX1080TI-O11G-GAMING GeForce 11GB OC Edition VR Ready 5K HD Gaming HDMI DisplayPort DVI Overclocked PC GDDR5X Graphics Card
Click the images for a larger view. I think [H] shrunk them to 1000 pixels wide. PM me if you need more.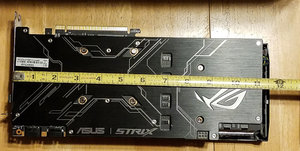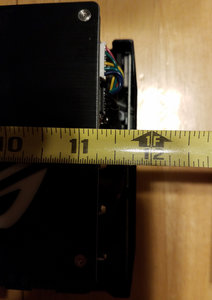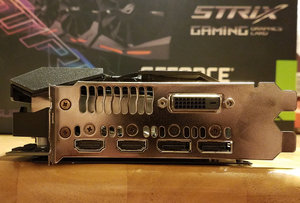 Edited: To add the "Gaming" product name up at the top.
Last edited: