Joined

Jul 27, 2006
Messages

9,476
Howdy!
This thread is about aerial cabling when underground cabling is for whatever reasons not possible. To boot this is an area of many firsts and much ignorance for me.
Here is a scenario: you have an office building and an almost-all metal 3-4 story garage with CCTV cameras, and the DVR is in the office building. There are no utility poles involved.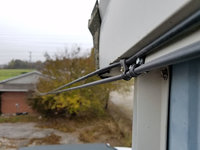 What you see in the picture above: those are RG59 siamese CCTV cables. There is no steel messenger wire to support their weight. This is a problem that needs to be fixed in the process of running additional lines (more cameras).
Question:
Where do I start? What hardware, gears, and tools do I need to do this right?
This is what I have come up with so far on my own (I humble request review, advice, and feedback because I don't know if I have a wrong part or tool or hardware for the job here):
1. Messenger wire
Loos & Co Stainless Steel 302/304 Wire Rope, Vinyl Coated, 7x7 Strand Core, 3/32" Bare OD, 1/8" Coated OD, 100' Length, 920 lbs Breaking Strength
$60 (50' will probably suffice)
2. Crimping sleeve for messenger wire on both ends
Loos Cableware SL1-2 Aluminum Duplex Oval Crimping Sleeve Set for 1/16" Diameter Wire Rope (50 Piece)
$6.22
3. Thimble for messenger wire on both ends
Loos Cableware AN100-C3 10 Piece Stainless Steel Thimble for 3/64", 1/16" and 3/32" Diameter Wire Rope
$40
4. Tool for crimping sleeves onto messenger wires on both ends
IWISS Wire Rope Crimping ( Hand Swage) Tool for Crimping Copper and Aluminum Loop Sleeves and Stop Sleeves From 1/16" to 1/8" with Wire Rope Cutter
$43.99
5. I might have to get a screw eye for where the messenger wire loops into on the office building (unable to remember or see in photograph if there is already a screw eye on office building roof)
Lehigh 3/8 x 4-7/8 inch Stainless Steel Screw Eyes (3-Pack)
$7.99
I will have to assume that the friend I'm doing this for has tools for inserting the screw eye.
Question:
how do you install screw eyes??
The next thing I think of is --
Question:
how will I hang or tie a handful or so of RG-59 siamese cables to the messenger wire (so that they benefit from its support)?
Thoughts I've had:
a) I could wrap each line around the messenger wire as they travel along the messenger wire
b) I could use a zip tie
c) cable rings?? (I'm concerned, from lack of experience and some ignorance, if they would slip down the messenger wire)

d)
B lashed cable supports
?
Advice and recommendations would be much appreciated. I'm thinking reusable zip ties might work, and it would hug the CCTV lines close to the messenger wire.
Question:
the next item I think about is how do the CCTV lines "enter" and "exit" the path of the messenger wire? Or is it unnecessary?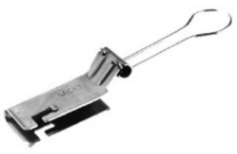 I guess these are called "clamp drops" ? I don't really know what keywords or item to be looking for. :x
I was thinking of using zip ties and this for the garage building to hold the cable to the building / for running the cable along the building:
Panduit ABM100-AT-C0 Adhesive Backed Cable Tie Mount, 4-Way Mount, Pre-Installed Adhesive, Outdoors/High Temp Environment, Nylon 6.6, Acrylic Mounting Method, Black (Pack of 100)
$43.15
Advices, feedback, input, and recommendations are highly welcomed and requested. Again, I'm new to this and there is much that I'm ignorant of and have never done before.