Joined

May 26, 2010
Messages

647
Being that I was on the fence for the longest time, and the upgrade bug finally made me itch, I am now the proud owner of a brand new Nvidia Geforce RTX 2080 Ti Founder's Edition. Previously, I was running two Gigabyte Geforce GTX 1080 Tis in SLI, and this was giving me awesome performance at 2k with Gysnc. I knew this was going to be a slight downgrade in some applications, but with SLI seeing less support, and the resale of 1080 Tis still maintaining their value, this was the perfect time to upgrade. To fully convince myself I decided I would do a graphics card comparison between the 1080 TI, 1080 TI SLI, and 2080 TI. Let's look at the two cards we'll be comparing:
Gigabyte Nvidia GeForce GTX 1080 Ti Turbo
VRAM: 11GB GDDR5
Memory Bus: 352-bit
Memory Bandwidth: 484 GB/s
Base Clock: 1480Mhz
Boost Clock: 1620Mhz
TDP: 250W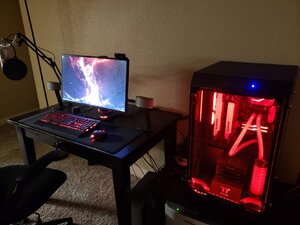 Nvidia GeForce RTX 2080 TI Founder's Edition
CUDA cores: 4352
Giga Rays/sec: 10
RTX-OPS: 78T (76T)
VRAM: 11GB GDDR6
Memory Bus: 352-bit
Memory Bandwidth: 616 GB/s
Base Clock: 1350Mhz
Boost Clock: 1635Mhz
TDP: 260W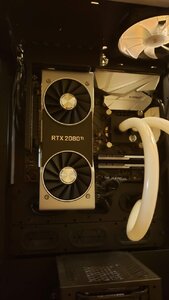 Here is the system specs for the system we'll be testing on.
Test System:
CPU: Intel i7 8700K (stock speed @ 4.7ghz on watercooling EKWB EK-Supremacy EVO CPU)
Motherboard: Asus ROG Strix Z370
RAM: 32 GB DDR4 G.Skill TridentZ RBG 2400mhz
SSD: Samsung 960 EVO 500GB M.2
HD: WD 4TB Blue
Power Supply: Corsair HX1200
OS: Windows 10 Pro
Monitor: Asus PG279Q 2K 165hz
Nvidia Driver - 419.17
Programs Used:
Fraps (for In-game benchmarking)
3dMark Time Spy Benchmark
Apex Legends
Battlefield V
Call of Duty: Black Ops 4
Overwatch
Star Wars Battlefront 2 (2017)
Testing methodology:
All games and benchmarks were done with the latest Nvidia driver release, which is 419.17 as of 2/25/2019. All in-game settings were set to their highest possible settings at 2k resolution (2560 x 1440), with Gsync disabled so that it doesn't affect our FPS in any way. Fraps was used to measure 3 minutes of game time which was once started in-game. Each game uses multiplayer on a server with lower ping, whenever possible, and each game was tested with the same multiplayer mode and map.
For the game and benchmark choices, these are games I regularly play.
3dMark Time Spy Benchmark
Developed with input from AMD, Intel, Microsoft, NVIDIA, and the others, 3DMark Time Spy is one of the first DirectX 12 apps to be built "the right way" from the ground up to fully realize the performance gains that the new API offers. With its pure DirectX 12 engine, which supports new API features like asynchronous compute, explicit multi-adapter, and multi-threading, 3DMark Time Spy is the ideal benchmark for testing the DirectX 12 performance of the latest graphics cards.
Results:
Gigabyte 1080 TI Turbo
Score: 8443
Validation Link:
https://www.3dmark.com/3dm/33897012?
Gigabyte 1080 TI Turbo SLI
Score: 14,210
Validation Link:
https://www.3dmark.com/3dm/33897209?
Nvidia 2080 TI FE
Score 12,607
Validation Link:
https://www.3dmark.com/3dm/33974203?
I knew going in that the 1080 Ti SLI setup would outperform everything else, although single card vs single card, the improvement was almost 50%.
Apex Legends
Apex Legends is a free-to-play Battle Royale game where legendary competitors battle for glory, fame, and fortune on the fringes of the Frontier.
Results:
Gigabyte 1080 TI Turbo
Min: 76
Average: 113.82
Max: 145
Gigabyte 1080 TI Turbo SLI
Min: 37
Average: 89.6
Max: 143
Nvidia 2080 TI FE
Min: 82
Average: 118
Max: 146
Between the single card and SLI 1080 TI setups, we can see that SLI scaling is broken, despite NVIDIA saying it received support for SLI in this title with the latest driver version. While playing it in SLI, it seemed like a hot mess – stutters, inconsistent frame drops. Switching to one card greatly improved the experience. In addition, we weren't getting a whole lot better performance from a 1080 Ti vs a 2080 Ti. I'm guessing this is also due to newer drivers that aren't optimized for this title at all. I'm sure future updates will bring some improvements.
Battlefield V
Enter mankind's greatest conflict with Battlefield V as the series goes back to its roots with a never-before-seen portrayal of World War 2. Lead your squad to victory in all-new multiplayer experiences like the multi-map Grand Operations. Fight across the globe in the single-player War Stories campaign. Assemble your Company of customized soldiers, weapons, and vehicles – then take them on an expanding journey through Tides of War. This is the most intense, immersive, and innovative Battlefield yet.
Game was played in DirectX 11, as DirectX 12 does not support SLI.
Results:
Gigabyte 1080 TI Turbo
Min: 56
Average: 95.25
Max: 137
Gigabyte 1080 TI Turbo SLI
Min: 89
Average: 109.6
Max: 151
Nvidia 2080 TI FE
Min: 102
Average: 120.16
Max: 181
The 2080 TI clears all the other setups and appears to be the best choice. In regards to the 1080 TU SLI, again, we had issues with SLI, but this time it is because Nvidia has disabled it for this title. This can be worked around with Nvidia Inspector, a free tool you can download. However, within the last few Nvidia driver updates they did something to lock that option out, and the settings won't save with Inspector, thus making SLI completely useless. There's a work around that involves going to the Nvidia driver file folder and making two files – nvdrsdb0.bin and dvdrsdb1.bin read only. After doing this, SLI worked a bit, although with abysmal scaling at only 15%, and I was able to finish out the test. This scaling is probably the result of Nvidia trying to lock out SLI, as past drivers I've had better framerates with this setup, and it wasn't as jittery in gameplay.
And because we have to, I had to try this game with RTX ON! Unfortuantly, in the multiplayer levels I saw a very slight performance dip but didn't see much difference in quality. So, I decided to load up the first level, and you could see the difference. Here is how the 2080 TI performed:
Nvidia 2080 TI FE (RTX at ULTRA Settings with Direct X 12)
Min: 46
Average: 56
Max: 101
Call of Duty: Black Ops 4
Call of Duty: Black Ops 4 features gritty, grounded, fluid Multiplayer combat, the biggest Zombies offering ever with three full undead adventures at launch, and Blackout, where the universe of Black Ops comes to life in one massive battle royale experience.
Game was tested in Team Deathmatch.
Results:
Gigabyte 1080 TI Turbo
Min: 56
Average: 95
Max: 137
Gigabyte 1080 TI Turbo SLI
Min: 122
Average: 134.37
Max: 141
Nvidia 2080 TI FE
Min: 82
Average: 135
Max: 189
The 2080 TI barely takes the cake with the best average, nudging out the SLI setup slightly. However, minimum framerate was better on the SLI setup. In addition, we also saw much better scaling 1080 TI vs 1080 TI SLI this time around.
Overwatch
The world needs heroes. Join over 40 million players as you take your place in the world of Overwatch. Choose your hero from a diverse cast of soldiers, scientists, adventurers, and oddities. Bend time, defy physics, and unleash an array of extraordinary powers and weapons. Engage your enemies in iconic locations from around the globe in the ultimate team-based shooter.
Results:
Gigabyte 1080 TI Turbo
Min: 113
Average: 180.37
Max: 208
Gigabyte 1080 TI Turbo SLI
Min: 144
Average: 172.7
Max: 214
Nvidia 2080 TI FE
Min: 129
Average: 216.32
Max: 276
Overwatch isn't a demanding title, but still sees a lot of play, and numbers on this game with high-end gaming systems just don't seem to be around. As you can see, all of these systems can run this game maxed out at 2K resolution with max settings easily, and with high enough refresh rates to make use out of these monitors with 144hz+ refresh rates.
The 2080 TI smokes both setups.
Star Wars Battlefront 2 (2017)
Hurtle between the rooftops of Theed in a speeding starfighter, cut swaths through armies of Clones with Darth Maul, and build your legacy on the battlefield. Your Star Wars fantasies come to life in Star Wars Battlefront II's multiplayer.
Results:
Gigabyte 1080 TI Turbo
Min: 50
Average: 76.45
Max: 99
Gigabyte 1080 TI Turbo SLI
Min: 63
Average: 103
Max: 141
Nvidia 2080 TI FE
Min: 70
Average: 120.8
Max: 146
One 1080 Ti felt smooth playing at 60fps, but on a higher refresh rate you could for sure feel the delay. Jumping to two 1080 TI SLI felt like a big improvement, but we were still not hitting the target of 120fps+ for the higher refresh monitor. The 2080 Ti was finally able to hit that benchmark, and just felt so much better.
Conclusion:
In real world applications, the 2080 Ti is either very close in performance or outperforms a 1080 Ti SLI setup. If you already have a 1080 Ti, at current market prices of $550, you're better off selling it and paying the difference for a 2080 Ti vs getting another card for SLI; it's a much better experience. If you can pay around $400-450 for the second 1080 Ti, that's where things get interesting – go for the second card. However, do note that Nvidia seems to be focusing less and less on SLI scaling, and even a $400 add-on might not help the games you play.
If you already have a 1080 Ti SLI set up, this is where things can get a bit muddier. It just depends on if you feel like paying $300 after selling the two cards and getting a slight upgrade. I'm happy with this choice, but if you can wait, it may be better to hold off for the next generation of cards.
Overall, I'm very happy with my new card. The two Gigabyte Nvidia 1080 Ti's have been sold on eBay.
Last edited: